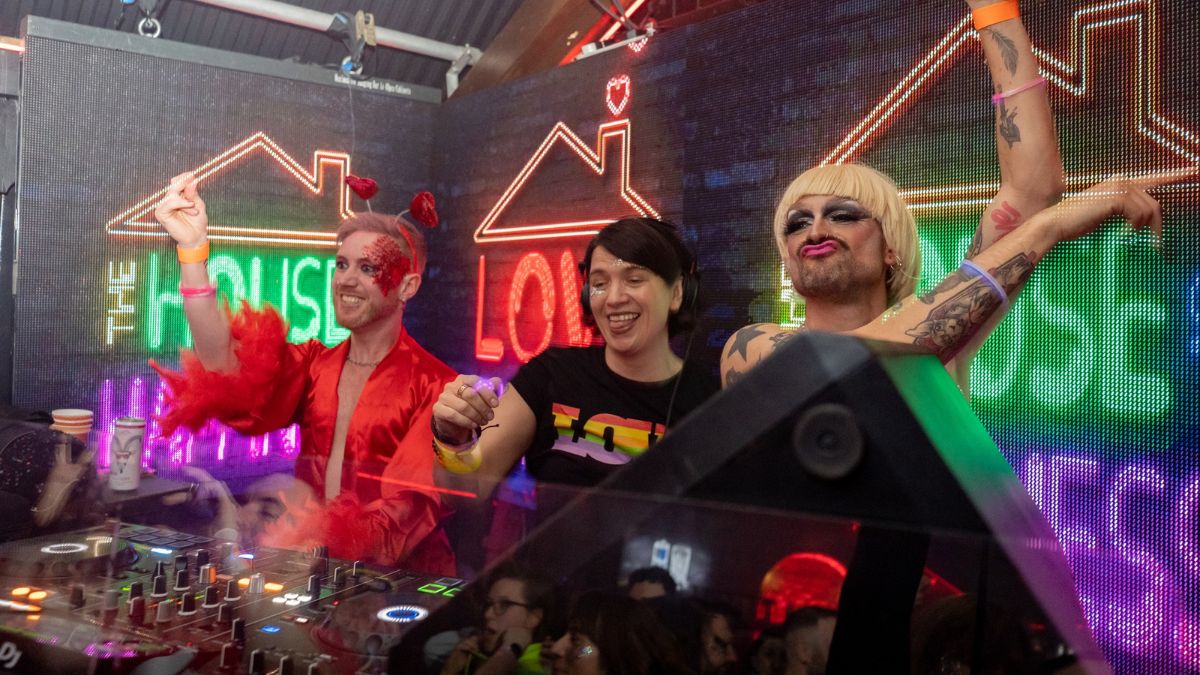 House of Happiness day clubbing
The usual BIG ENERGY, CRACKING MUSIC, BANGING ENTERTAINMENT, DELISH SELECTION OF ALCOHOL-FREE DRINKS & GLITTER OBVS!
DJs
Samantha London – co-founder of Dalston's Hub16 Studios and all-round queer club scene legend
Saya – DJ and host at Centreforce Radio 88.3, and club and festival slayer
BARRONESS – our resident DJ will be on the decks from 3pm-5pm
Dancers
Miss Averi – mischief maker and organising member of the CyberTease, performer at Queer House Party
Prinx Silver – drag king sensation and co-pilot of TBoys Club
Plus, showgirl Heidi Liscious is back in the House with her usual antics and the glitter station* will be sparkling & ready for YOU! *Free for the first 1.5 hours, £5 after.
COMING ON YOUR OWN? JOIN OUR PRE-MEET!
As usual, we'll be holding our popular pre-meet from 11am and we'll be holding it at Fire, just outside our venue for the day! It's totally the norm to attend sober events by yourself but we get this can be nerve-racking. This is a great way to meet other PARTY PEOPLE beforehand in a chilled environment and then head on over to the venue. Bring a tea or coffee with ya, maybe even a bit of cake and join us for some chat before we RAVE THE DAY AWAY.
WIN TICKETS & MORE
At 2.30pm, we invite you to smash it on the podiums to WIN AN AWESOME GOODIE BAG from our wonderful friends at Horny Goat as well as a pair of tickets to our next event.
As usual, we'll be giving away 3 x pairs of tickets after the event and to be in with a chance of winning, TAG US on Instagram @houseofhappinessofficial during the day with a reel/ post/ story and you could be in with a chance to score tickets to our next/ future event. Tagging, sharing & commenting helps us spread the work about not just us but SOBER JOY!
DATES FOR 2023
We know many of you travel from across the country to come party with us which we love! Due to lots of requests for our future dates for events from groups/ individuals further afield, we've secured these with Fire for the rest of the year – Here they are with a few more details…
22 July
19 August – this will be a chilled summer social, not our regular clubbing offering. We're thinking an outdoor space & more of a chance to mingle
7 October – we'll be celebrating our 1ST BIRTHDAY!
9 December – Xmas!
We hope this helps with planning and means that lots more of you can come rave it up with us 🙂 Invite your friends/ colleagues and anyone else who fancies it – it's a safe, inclusive & fun space for all and you're all part of making it just that!
If we are seeing you on Saturday, BRING ON THE MADNESS! If not, we really hope to see you soon!!
Lotsa love & thanks for reading,
The House of Happiness Team x
PS. Check out our SWISH NEW LINKTREE