How to run an alcohol-free tasting table
Whether you are looking to run an information stand at the entrance to a library or want to do something different at a health event, you can't go wrong with a stand offering tastings of low and no alcohol drinks.

Here we take you through what we have learnt after doing hundreds of these across the country!
Why do a tasting
If you are looking to engage people about changing drinking habits then you have several options of the approach you can take. Traditionally health events have focused on alcohol-harms and counting units to help people think about what they drink.

We started Club Soda to take an alternative approach – looking at and focusing on the benefits of change. We use the behaviour change techniques (using UCL's behaviour change taxonomy) that focus on reinforcing the positive gains from change and those that promote self-efficacy best!

Swapping either your drinks or even your social venue is one technique to help you change your drinking. especially a loss of social life is a perceived barrier to change.

Most people don't know that the world of low and no alcohol drinks have changed. There is more to drink now than Becks Blue or Shloer, and pubs are now stocking them. So they don't know that 'switching' to a different drink or 'replacing' is possible!

You can see the full range of drinks, what supermarkets they are in and which pubs stock them on our Guide For Mindful Drinkers here.
A 'pop-up' giving people a taste is not only a big draw at an event but gives people a very practical demonstration of where they can swap out some alcohol from their diet and replace it with something else.

What is low and no
This is good to know as if you want to serve anything over 0.5% then you will need a licence! That should not rule you out looking at doing tastings with lower alcohol switches (such as under 3% beers and 8% wines) but you may find it easier to do 0.5% and under. These are drinks you will find in the alcohol-free section of the supermarket.
What to stock
We think sharing products that people can easily buy at the supermarket is the best way to promote low and no alcohol. There is no point sharing things that people cannot buy easily.
They are also the easiest to make and serve!

Try and 'stock' a range of products across the drink types. Suggestions of what to stock on your bar are below. But basically you should look to include a:
few styles of beer: Lager, Pale Ale, Stout
de-alcoholised wine
wine alternative
cider
botanical or spirit with tonic
few lower sugar craft soda's aimed at adults
kombucha
The pros and cons of cocktails 
Most people don't make cocktails at home so showcasing cocktails is not an easy swap!  Equally, a badly made cocktail puts people off rather than promoting a good alternative. Using easy to access products can also make home-made cocktails high in sugars. But if you do there are some great recipes and how-to videos here on La Maison Wellness.
You may want to look at some premade 'ready to drink cocktails' if you really want to do them. Try these:
Mocktails
Sipling
Square Root (their Negroni or Gin and Tonic are great)
What you need on the day
A way to chill your product. An icebox with ice will be useful if you are not near a kitchen. 
Bottles for display as well as chilled 
If you are doing some slightly larger serves consider some garnish ready cut in a Tupperware and some ice cubes for serve. Remember some tongs!
A cloth to clean up things! 
Tasting glasses. If avoiding single-use plastic then look for small paper cups on amazon or shot glasses from ikea work if you have access to washing up facilities.
A jug – to premix any spirits with tonic. Don't forget to buy tonic!
Alcohol-free wine (de-alcoholised)
De-alcoholised means that the product was made with alcohol in and then has had it removed (most often now using spinning cone technology. Many wines are de-alcoholised and as part of the process have some grape juice added back in. So they can be high on natural sugars. People who don't drink for religious reasons are likely to avoid de-alcoholised products.

Easy Swaps: Rawsons Retreat white, red and sparkling (Tesco) Lindeman's white, red and sparkling (most supermarkets) Noughty sparkling wine in Holland and Barrett.
How to serve:  small measure in a tasting glass. You should be able to get 10-14 tastings from a bottle.
Alcohol-free wine alternatives
There is now a range of alternatives to wine that are served in the same way and use tea and other ingredients to create a similar taste profile and tannins.

Easy Swaps: Belle & Co white and Rose, Echo Falls (most supermarkets)

How to serve:  small measure in a tasting glass. You should be able to get 10-14 tastings from a bottle.
Beer
The hero of the low and no category there are some great beers and you should find it easy to find these in supermarkets. Aim to stock several beers in different styles and some in the 'craft' category including larger, stout, IPA and Pale Ale. People need to find the right beer style for them!

Easy Swaps:
Heineken 0.0 In most supermarkets and pubs. A larger that has the same flavour profile as their full-strength beer.
Budweiser Prohibition is available in all supermarkets.
Big Drop have beers in all styles and can be found in supermarkets and Holland and Barret. These beers are the 'craft' category.
Adnams Ghost Ship is a 0.5% de-alcoholised is a craft ale and in most supermarkets.

How to serve:  small measure in a tasting glass. You should be able to get 4 tastings from a bottle/can.
Cider
There are fruit ciders and more traditional ciders on the market and all are very popular.
Easy Swaps:
Old Mout Berries and Cherries is a low sugar and calorie fruit cider that is available in lots of pubs and supermarkets.
Strongbow Dark Fruits is brand new and just making its way into the supermarkets.
Kopparberg, in several flavours and a winner wit 18-24-year-olds and in many supermarkets and pubs.
Stowford Press is in
How to serve: small measure in a tasting glass. You should be able to get 4 tastings from a bottle/can.
An alcohol-free spirit and tonic 
An alcohol-free spirit, really? Well yes. Using all the same techniques as alcoholic spirits these guys distil without the alcohol. There are many hitting the market and they are all served in different ways. So we have a list here that will replace the regular spirit serves (Gin & tonic, Rum & Code, Vodka and …) which are easier for you to execute on the day!

Easy Swaps:
Ceders is an alt-gin in three flavours and available in most supermarkets
Celtic Soul in a dark spirit with a cask flavour for those who like a whisky
Stryyk has a vodka, rum and gin alternative and is in Ocado and on Amazon.
Gordon's Ultra Low is a pre-bottled Gin and Tonic available in most supermarkets.
Atopia as two flavours and can be found in Sainsbury and Ocado.

How to serve:  remember to buy some tonic! We recommend that you premix in a larger jug as it makes it easier to serve. Include a small bit of garnish in the tasting glass. These are popular!
Lower sugar soft drink /craft soda
This is quite a wide category, but basically includes soft drinks not aimed at kids. They tend to be lower in sugar and may also draw on ancient traditions (such as kombucha which is a fermented green tea drink) and Shrubs. You could also include in this some local cordials and pre bottles cordials. Every region has at least one local fruit cordial.
Lo Bros Kombucha – kombucha is a fermented green tea. Low in sugars and full of probiotics it makes a great drink for adults as it has many of the acidic notes of alcohol. You can get this brand in Sainsbury's. Most supermarkets and health shops have a kombucha brand. (Avoid the one from Rude Health as that is 1.2%!)
Kolibri, a sparkling drink where you can adjust the amount of sweetness using the little dispenser on the lid. In Holland and Barret's lo and no section!
Fentimans, their ginger beer is a good go-to and they now have a range of flavoured tonics!
Belvoir have a range of pre-bottled soda and cordials and now flavoured tonics
Nix and Kix lower sugar with a cayenne pepper kick. Find in Tesco, Waitrose and Ocado.
T&E No:1 like a posh lime and soda. From Waitrose.  

Other places to buy
Make it easy for invoicing by going to Dry Drinker or Wise Bartender and getting a mixed box delivery. You can get a discount using the code CLUBSODAVIP at both.

Amazon also has a range of these products for delivery through prime.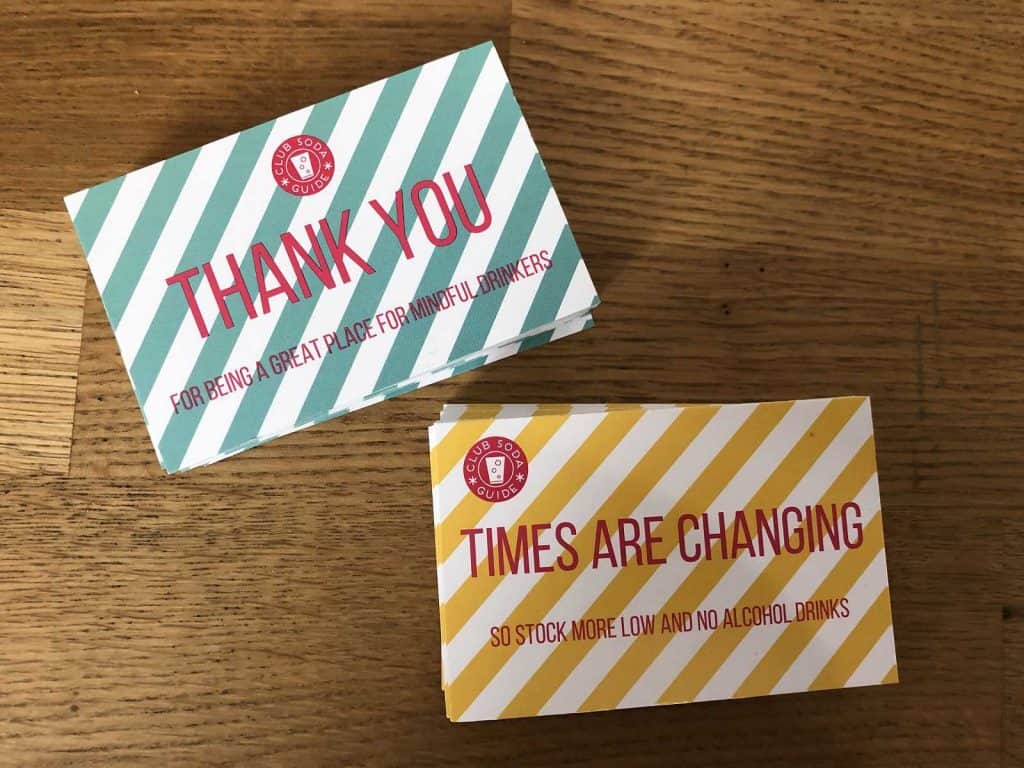 Pub Swaps and hack packs
If you want to support people to rethink their pub and bar choices then clubsodaguide.com shares with people the best venues near them that stock these drinks. Each venue is scored out of 5. Stick an ipad on your stand and let people search the guide.

Want to encourage people to let pubs know they could do better (or join the guide if there are not many near you) then email Jessy for a pack of Sober Hack cards for your stand!