Queers Without Beers
QWB London is back in the real world and we are looking for new Volunteers and venues to restart our Bristol and Manchester group up as soon as we can. We also have QWB starting soon in Derby and Hastings! If you'd be interested in volunteering for any of our QWB events then please let us know. You can check out the latest events at our MeetUp pages or the Club Soda Events page.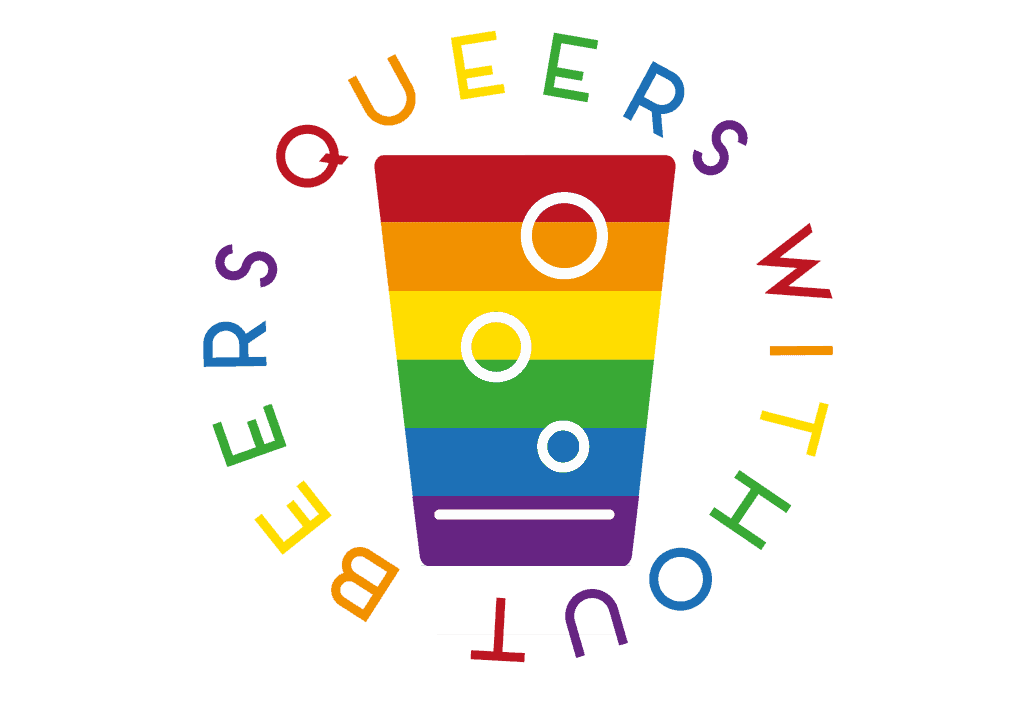 Queers Without Beers is a series of alcohol-free LGBTQI+ social events and an online community. We have monthly events in central London, organised by Club Soda and London Friend; in Manchester, organised by Club Soda and the LGBT Foundation; and have just launched in Bristol too, with Prism.
In London we meet every fourth Thursday of the month, bringing some of the most exciting alcohol-free drinks together at our exclusive pop-up bars in the heart of Bloomsbury and Bethnal Green. Craft beers, distilled botanicals, cider, wines, gin and tonic and craft sodas are available to try on this friendly LGBTQI+ night.
Our first Manchester event was in November 2018 at The Nexus Art Cafe. We are currently looking for a new venue and all suggestions are welcome. .
Bristol QWB launched in November 2019 – look out for the next events on social media!
Let us know if you have any questions, by emailing Laura at laura@joinclubsoda.co.uk or calling her on 07968 708703.
About Queers Without Beers
QWB is a sophisticated social space for LGBTQI+ queers of all persuasions that doesn't revolve around booze. Everyone is welcome – whether you have never drunk, don't want alcohol tonight, are looking to change you drinking habits, or have actively quit drinking.
The events are free to attend although we ask for a £3 contribution to help with the organisational costs. You will just need to buy your own drinks and food.
You can follow Queers Without Beers on Twitter and Instagram, and find us on Facebook and on MeetUp for London, Manchester and Bristol.
Our online community lives on Facebook – you can request to join this private group here. You can chat to others like you, and meet people online before meeting them at the socials.
Please check on social media or MeetUp for London, Manchester and Bristol for any last-minute changes!
You can RSVP to each event on our website, on MeetUp or Facebook – but you can just turn up on the day too, that's what most people do!
More resources
Club Soda is where it all started – one of our members suggested an LGBT+ meetup and came up with the QWB name, so we had to start one! Club Soda is the Mindful Drinking Movement helping people cut down or quit drinking.
London Friend are our partners in QWB London – they are the UK's oldest Lesbian, Gay, Bisexual and Trans charity, supporting the health and mental well-being of the LGBT community in and around London.
LGBT Foundation are our friends and QWB partners in Manchester – a national charity delivering advice, support and information services.
Prism is Bristol Drugs Project's LGBT+ service and our local partners and event organisers there.
MEN R US has tons of information about all aspects of life for men: from sex, health and drugs to the history of Polari.
Meetups – London has dozens of LGBT+ meetups, from Outdoor Lads to East London Lesbians.
Opening Doors London – a charity providing information and support services specifically for older LGBT people.
The Bisexual Index – exactly what it says: everything bisexuality.
Imaan – the UKs leading LGBT Muslim charity.
LGBT mental health resources – a listing by PinkNews.
Helsa – mental health resources and therapist connections.