What's new? Fresh brands at our July Mindful Drinking Festival
This weekend brings the excitement of yet another Mindful Drinking Festival to London. We've curated a stonking selection of alcohol-free brands for your tasting delight, and each brand has a fantastic story to tell. This is a great opportunity to come down, try some new drinks, fill your bags with loot for your fridge and meet like-minded Club Soda members. We will also have Cocktail Masterclasses hosted by the lovely Camille Vidal; what she doesn't know about mixing a good drink isn't worth knowing. So if you're free, do come down and join us, meet the producers and find your new favourite alcohol-free tipple.
Here are just a few of the drink brands we have in store for you, we've lots of new spirits coming to join us this time.
---
ATOPIA
You may already have seen Atopia in your local supermarket, their packaging really stands out. This product comes from William Grant, who until now have been known for their catalogue of whisky. Both spirits are 0.5% and are designed to be mixed with tonic or used to create cocktails. As the name suggests, 'Spiced Citrus' has zesty acidity and a touch of aromatic spice, while Wild Blossom is full of floral notes, a touch of apple and some smoke.
---
STRYYK
Stryyk have three products in their arsenal: Not Gin, Not Vodka, and Not Rum. Founder Alex Carlton wanted to create products that still brought the party feeling, but didn't leave you feeling hungover or embarrassed the next day. He had already founded Funkin Cocktails in the late 90s, and so set about the task of creating an appropriate alternative to some classic party drinks. These are perfect for simple mixing as well as more complex cocktails.
---
SENSER SPIRITS
Senser Spirits are so new that we haven't had chance to try them yet, they're currently taking pre-orders for August. They have three products and describe these as 'alive', botanically-active alcohol-free spirits. As such, they recommend drinking them within 4 weeks of opening. While there is no alcohol, they do claim to have a mood-altering quality to the products which has us very intrigued! These are versatile and are designed to be enjoyed as you would a spirit, neat, with a mixer or as part of a cocktail. Senser Spirits have thought about the things we can use alcohol for – maybe to relax, bring confidence or get us in the party mood – and created carefully considered natural blends with the same goals in mind. Their holistic approach has us excited to try all three varieties.
---
PEAK ZERO PROOF
The maker of Peak Zero Proof (nicknamed PzP) was going through a difficult time and found they were drinking more than they wanted to, so decided to create an alternative to the usual G&T to drink at home. Some friends came over to try it, and rightly said it was good enough to be bottled and sold. This brand is operating on a small scale from home at present, and it's great to see them experimenting with different blends of flavours. You'll also find the price point lower than a lot of similar products, so if you're just beginning to explore alcohol-free spirits this could be a great place to start. It's available in 500ml bottles, or 250ml, perfect if you want to take it out with you.
---
FREESTAR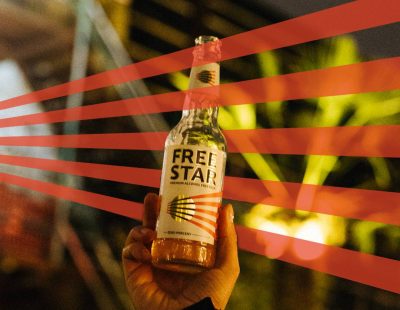 Three friends set out to make Freestar the world's best tasting alcohol-free beer. Now we can't pick favourites, but we will tell you it's tasty stuff, a classic lager profile with some citrussy notes. There is no alcohol created in the production process, so there is never any need to de-alcoholise. This means no heating, which can compromise flavour. The resulting product is crisp and clean, a little floral character with a moderate bitter finish. The weather is promising to be decent this weekend, so we're looking forward to cracking one of these open to enjoy in the sunshine.
---
HERBACEOUS BLENDS
Herbaceous Blends are on a mission to tackle over packaging and caffeine addiction. They aim to encourage people to live and consume in a more mindful way. With goals like these, you can see why we are so excited to have them at our festival! Founder Caroline is completely caffeine intolerant and has been a lover of herbal tea for years. Sustainability and transparency are at the heart of everything they do, and if you head to their website you can find out all sorts about their packaging choices, how they source their teas and how they aim to reduce their impact on the planet. Their ingredients range from fennel and lemongrass to rose, cardamom and mint, and where possible they source their herbs from farmers in the UK. So if you're looking for an ethical pot of tea, look no further than Herbaceous Blends!
---
XACHOH
Pronounced Za-Ko, this brand boasts unique alcohol-free spirits, with recipes rooted in ancient Persian herbal remedy. This family has been passing down their own secret recipe of herbs and spices from the Silk Road for six generations, so we consider ourselves very fortunate that Xachoh founder Mohamad decided to bottle it for all to enjoy. There will be two products to try, first is Blend No. 5. This is a clear spirit with flavours of star anise, warming ginger, tumeric and rosemary, bright acidity gives way to warming spice. Next is Blend No. 7, a dark spirit with flavours of mace, cinnamon and ginger. This is a little sweeter, with deep rich flavours. And wait until you see the packaging, the gold logo exudes luxury.
---
BREWDOG
BrewDog were already known for Nanny State, and this year they've released Punk AF. This is a 0.5% version of their popular Punk IPA and has notes of pine and soft tropical fruit. BrewDog also have a sour called Raspberry Blitz at 0.5%, it's great to see a brewery known for some big-hitting beers to be gradually building a range of beers for those choosing to avoid alcohol. They're also offering a special treat for Mindful Drinking Festival attendees at their London venues in the week following the festival, you'll find out more in your festival guide booklet when you arrive. Oooh, the intrigue!
---
GOOD CALL SODA
Good Call Soda is a new brand and this is their first public outing. It's brought to you by some of the team behind Cloudwater Brew Co, one of the UK's most revered craft breweries. They've chosen not to go down the alcohol-free beer route, instead creating adult soft drinks infused with flavours from the brewery. They're working with ingredients such as tea, hops and fruit to bring mature sodas to those seeking a little more than sugar and fizz. These sodas are complex, low calorie and have a lasting bitterness, making them something for slow sipping. This brand is so new that they just produced their first test batch last week, but you'll be seeing them on shelves in the near future. Pop by their stand at the festival to be among the first to taste the product.
---
KROMBACHER
Krombacher is one of the largest family owned breweries in Germany, combining a rich heritage with advanced technology to ensure consistently high quality. They believe in quality and flavour, and are committed to the art of brewing, sustainability and authentic heritage. Their alcohol-free range is crafted using their own brewing process developed over many years. This guarantees that the flavour specific to the style of beer is retained in the alcohol-free iterations. You'll be able to try the Krombacher's Pils and Weizen on Saturday.
---
ST CLEMENTS
St Clements is a sparkling premium apple soft drink. Decades of expertise and the finest bittersweet British apples go into creating these delicious soft drinks. The drinks contain no artificial flavours or colours and are vegan-friendly. They recommend serving over ice in a pint glass for the ultimate refreshing experience.
---
Join us on Saturday 20th July 2019 from 11 am to 5pm in Bishops Square outside Spitalfields Market, London. 40 alcohol-free drinks producers, 4 brilliant DJs and a series of sought-after alcohol-free cocktail masterclasses. Free entry (excluding cocktail masterclasses). Dogs and children welcome.
Full festival line-up is on the Mindful Drinking Festival website.
Search
Blog categories
Upcoming events
January 20 @ 2:00 pm
-
3:30 pm
GMT
January 20 @ 8:00 pm
-
9:00 pm
GMT
January 30 @ 10:00 am
-
1:00 pm
GMT