Trade and Consumer Shows 2022/23
On this page you will find information about, and how to get involved in, our Mindful Drinking Experience, popping up at three trade shows this year, other trade shows we are partnering/have negotiated discounts with, and our consumer-facing shows.
We have provided contact details of the person at each show you would need to talk to in order to book, and for all other questions and enquiries email Ali ali@joinclubsoda.co.uk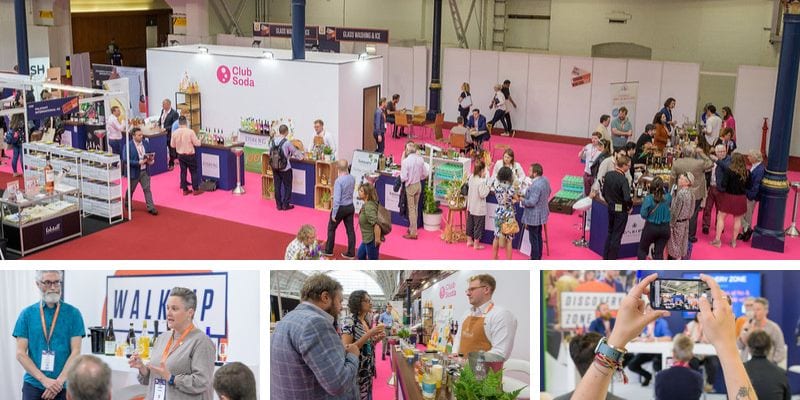 ---
The Club Soda Mindful Drinking Experience
The Club Soda Mindful Drinking Experience is our coordinated and collaborative strategy to maximise trade show engagement for exhibiting partners, ensuring sector visibility and visitor participation, whilst lowering barriers to entry for smaller brands.
Our Mindful Drinking Experience brings brands together in a pavilion at the heart of each show, with a dedicated, branded space on the main show floor. In addition, we will be running a programme of activations across each show, including keynotes and panel discussions, guided tastings for show visitors, demonstrations, competitions and more.
Partnering with us in our Mindful Drinking Experience is a cost effective way to showcase the best in low and no, ensuring we all get the most benefit in terms of visibility and footfall.
Our programme of activations is designed to drive show visitors to our Mindful Drinking Experience with purpose, encouraging their engagement with you.
We will be popping up our Mindful Drinking Experience at the following trade shows (prices are for stands within our Mindful Drinking Experience):
In-Drinks – Glasgow SEC, 8-9th March – £1,240 +vat
London Wine Fair – London Olympia, 15-17th May – £1,870 +vat
Imbibe Live – London Olympia, 3-4th July – £2,530 +vat
Read what our partners and visitors had to say about our 2022 Mindful Drinking Experiences
---
Full trade show list
19th/20th October 2022
We are working in partnership with The International Drink Expo to offer Club Soda partner brands a stand discount after the success of last years event. The International Drink Expo is the UK's only event dedicated to maximising your drinks sales. The event runs alongside 5 other events forming FES22, bringing 1000 market-leading suppliers and 15,000 industry-defining leaders.

As you are a partner of Club Soda, you can buy a stand at a special partner rate! This is not something you want to miss!

This year's show boasts an unbeatable range of exhibiting, branding, and sponsorship opportunities taking place on the 19th & 20th of October at the ExCeL London. These are all specifically designed to ensure you maximise your ROI before, during, and after the event, so be sure to get in contact with the team to discuss your tailor-made package!
10% stand discount using the code 'CLUB SODA'
Book With:
Gary Hall – Fortem International
Direct Line: +44 (0)20 7973 4788
gary.hall@fortem-international.com
Make sure you state the discount code 'CLUB SODA' to get your discount!
---
Glasgow SEC, InDrinks is colocated with Scot Hot hospitality show.
8th/9th March 2023

In-Drinks is the new national trade show for the drinks business. Taking place in Scotland's vibrant capital city, the event will showcase all drinks products for the trade. The show is a great opportunity to explore and learn about the vibrant drinks sector in Scotland and the North of England.

Join the Club Soda Mindful Drinking Experience at the heart of the 2022 show:
Number of spaces: 4
Size of space: 2m by 2m
There will be some Club Soda branding on the ends and top of this space and our aim is to signal this as a place to find some fantastic low and no offerings with some killer stats to draw the crowd. There will be space for your own pop up branding behind your stand and on the box provided. If you need refrigeration or other furniture you can discuss this directly with the organisers and there will be an additional charge.
E-shot: We will have a solo email to the shows event database showcasing the low and no brands that have booked through Club Soda at the show.
Low and no tour run by Laura: Laura will be conducting regular guided tours around the show for visitors, taking them to the low and no brands and sharing insights about the market and the specific brands.
Panel Discussion: Laura will be hosting a panel session on How to Integrate Low and No into your venues offer.
Podcast and social: We will be interviewing member brands for our podcast and undertaking social media about our activity and the brands at the show.
Price: £1,240 +vat
Book with: Paula Dickson of KD Media
Email: paula@kdmedia.co.uk
Phone: +44 (0) 7557 986 248
---
Olympia, London
15th – 17th May 2023
After an amazing first year of the Mindful Drinking Experience at London Wine Fair in 2022, the Club Soda Mindful Drinking Experience will be bigger and better for 2023, and include bespoke show activations and additions.
The offer from LWF is designed to be an all inclusive option where you can turn up at the show and present your product professionally
Bespoke requirements, such as shelving, media screens, or bringing your own bar can be arranged by individual agreement with LWF
As part of the all-in package, you will receive the following:
Each brand will have a dedicated 2x2m bar space (counter) to mix / pour / across all three days
Each brand's logo professionally placed at the front of each bar counter
You will be part of a large pavilion area, which will be over 120sqm but you will have a dedicated 2x2m stand space
Access and space within shared storage area at the centre of pavilion
Club Soda support across all three days all within the exclusive Club Soda area on the ground floor, with Laura Willoughby participating in talks across the show theatres
Pre-show promotion concentrating on stories from participants on the Club Soda Mindful Drinking Experience across London Wine Fair and Club Soda's channels (email, social, video and media partnerships)
Bespoke requirements/extras can be discussed directly with LWF, who will provide pricing/options for any extras you feel you might need
£1,870 + vat for all-in package
Book with:
Mara Veith – London Wine Fair
Direct Line: +44 (0)20 7973 4788
Mobile: +44 (0) 7741 901784
---
Olympia, London
3rd/4th July 2023

Imbibe Live unites the entire drinks industry to grow their businesses. Whether you're sourcing and buying, or producing and selling, we invite you to share new products, stories and build lasting relationships. Be where the future of the UK industry is determined.
As part of the all-in package, you will receive the following:
Each brand will have a dedicated pod space within a larger pavilion area of other low and no brands taking part in the Club Soda Mindful Drinking Experience
A pod comprising a 1m counter to mix / pour / across all three days, with a shelf behind
Each brand's logo professionally placed at the front of each bar counter; graphics on the back wall of each pod space
1 x lead scanner app and 1 x reader
Allocations of ice and water each day
Club Soda support across all three days all within the exclusive Club Soda area on the ground floor, with Laura Willoughby participating in talks across the show theatres
Pre-show promotion through Imbibe and Club Soda's channels (email, social, video and media partnerships)
Bespoke requirements/extras can be discussed directly with Imbibe, who will provide pricing/options for any extras you feel you might need
£2,530 +vat
Book with:
Chris Collins – RX Global
Direct line: +44 (0)208 910 7925
---
Consumer Shows
Various locations, UK
Details TBC
Contact Ali if you are interested in finding out more:
---