January saw us hosting yet another packed out Mindful Drinking Festival at the Truman Brewery. We met with some familiar faces and were joined by some new brands too. As always we're giving you some ideas on how to use some of the products you may have picked up during your visit. And if you've any ideas to share with us about drink recipes we would love to hear them!
Things to mix…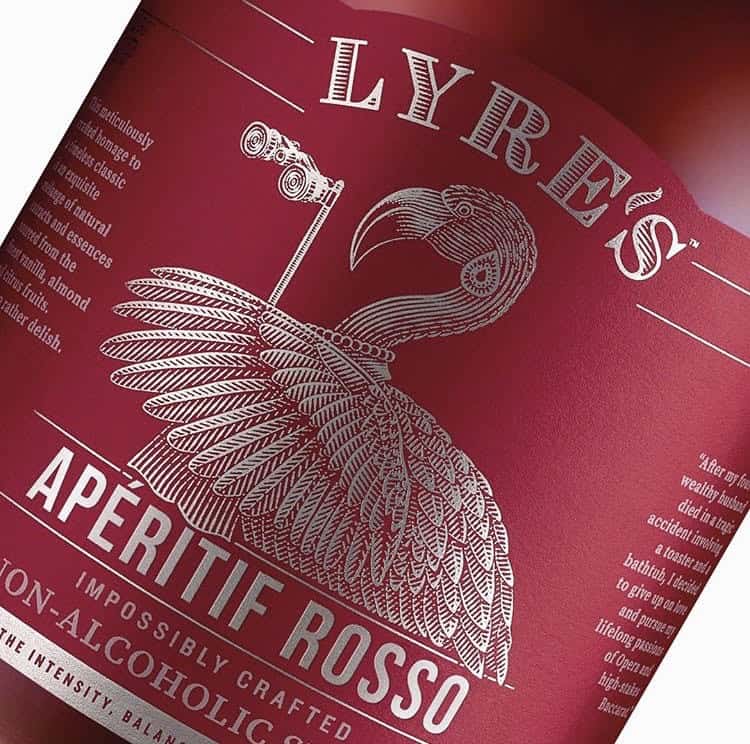 Lyres had a bar at the festival serving their 13 different spirits. They were mixing up some fantastic cocktails and this was one of our favourites:
Negroni
30ml Lyres London Dry Spirit
30ml Lyres Italian Orange
30ml Lyres Aperitif Rosso
Orange peel to garnish

It's simple, as always. Use large cubes of ice, or an ice sphere if you have a mold. Simply combine your spirits with your ice, and gently stir to melt the ice just a little. Garnish with a twist of orange peel, twisting it right above the glass, then dropping it on top. This will give a little extra aroma when you lift the glass to your mouth. We love this one because it really does taste grown up, no sugar or juice, and quite high in bitterness. You can find them on Wise Bartender.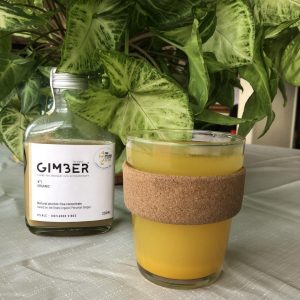 This is a high concentration of peruvian ginger, with lemon, herbs, and spices. It tastes exactly as expected, a big fiery punch of ginger. Their perfect serve is to drink it either neat or with sparkling water diluted to your preference. They serve it in a tumbler of ice and garnish with thyme or mint.
I've been using it in a morning elixir I picked up from my favourite yoga instructor Zana. I've slightly tweaked her recipe, but would recommend checking her out for some healthful and flavourful food and drink ideas.
25ml Gimber
10ml lemon juice
Pinch cayenne pepper
Pinch turmeric (a little more than the cayenne, not quite 1/3rd tsp)
Hot water
While the kettle boils, get all your other ingredients together in your favourite morning mug. If you want to add sweetness you could add a drop of honey or agave. Mix well, then top with boiling water for the perfect drink to kickstart your day. There are many people exploring the benefits of the ancient Indian Ayurvedic medicinal system, and this drink boasts lots of detoxifying properties. At the moment, you are best ordering directly from Gimber, but we are hoping to see them on shelves soon.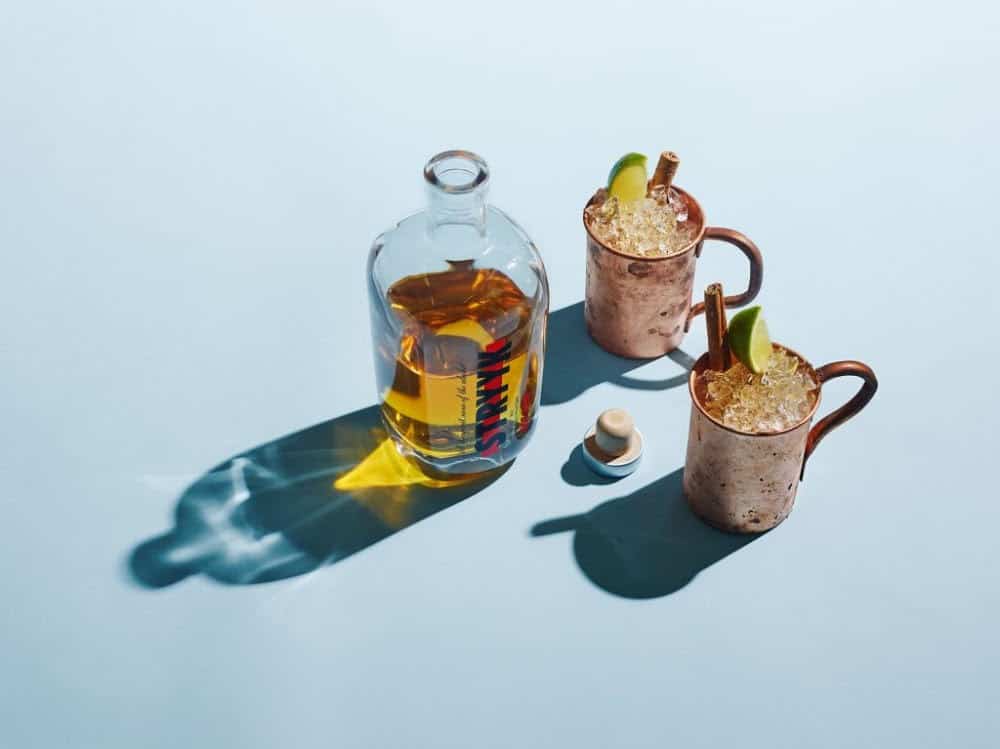 Another popular brand has been Stryyk. They produce three alcohol-free spirits, Not Rum, Not Vodka, and Not Gin. We love this alcohol-free Moscow Mule.
Moscow Mule
50ml Stryyk Not Rum
10ml fresh lime
Ginger Beer
Lime wedge to garnish
Another easy one. Simply take a tumbler and add plenty of ice. Combine your Not Rum and fresh lime, then top with the ginger beer. Use your lime wedge to garnish. You could even try adding a drop of Gimber for a little more kick. Find their range on Wise Bartender. 
Things to dilute…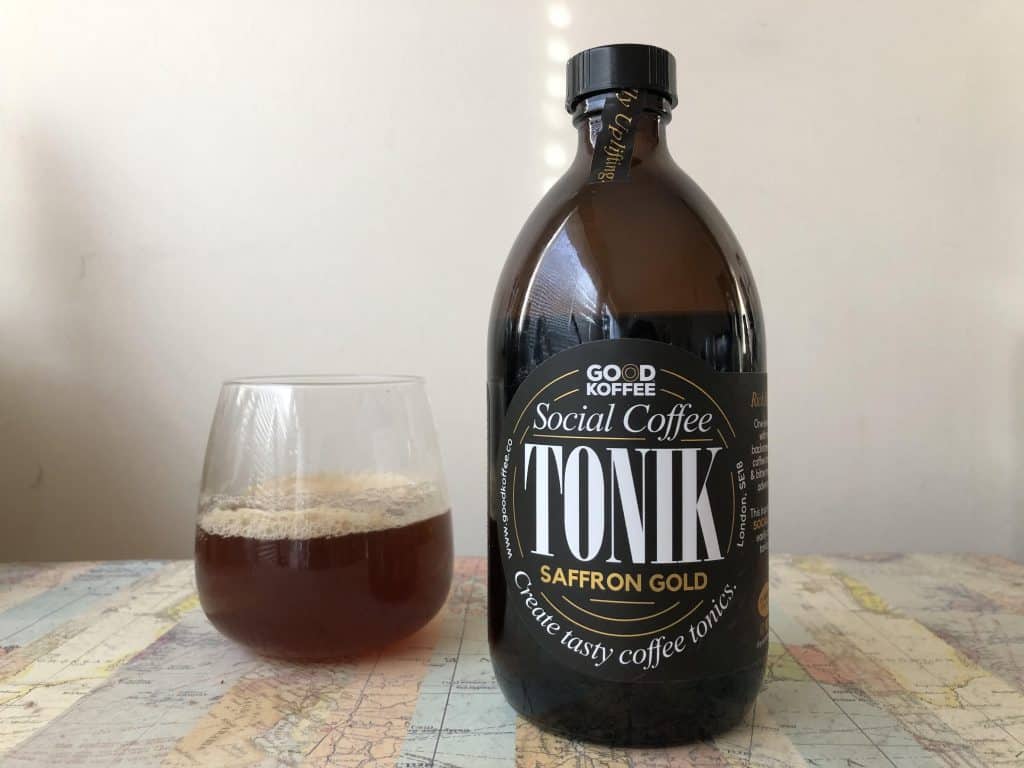 We've tried Good Koffees coffee kombucha before, so were excited to taste their new Social Coffee TONIKs. We used 25ml of the Social Coffee TONIK – Saffron Gold. Dilute with 100ml of sparkling water or tonic (we used Fevertree Refreshingly Light Mediterranean tonic). The result is quite astounding, a mix of bitter coffee, rich saffron and fragrant tonic. There is an underlying sweetness and a touch of acidity. This is evocative of coffee served in Vietnamese cafes, far more exciting than our usual pot of instant!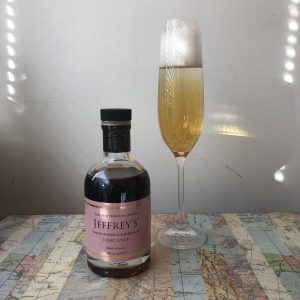 Jeffrey's Tonic produces a range of delicious tonic syrups. These are perfect for using as cordial, or to jazz up an alcohol-free fizz or cocktail. Try adding some Yarrow, Rosehip and Elderflower syrup to your favourite fizz for a little extra sense of occasion, it is delicate and floral with a touch of sweetness. We use 20ml to 125ml of fizz, tonic or water.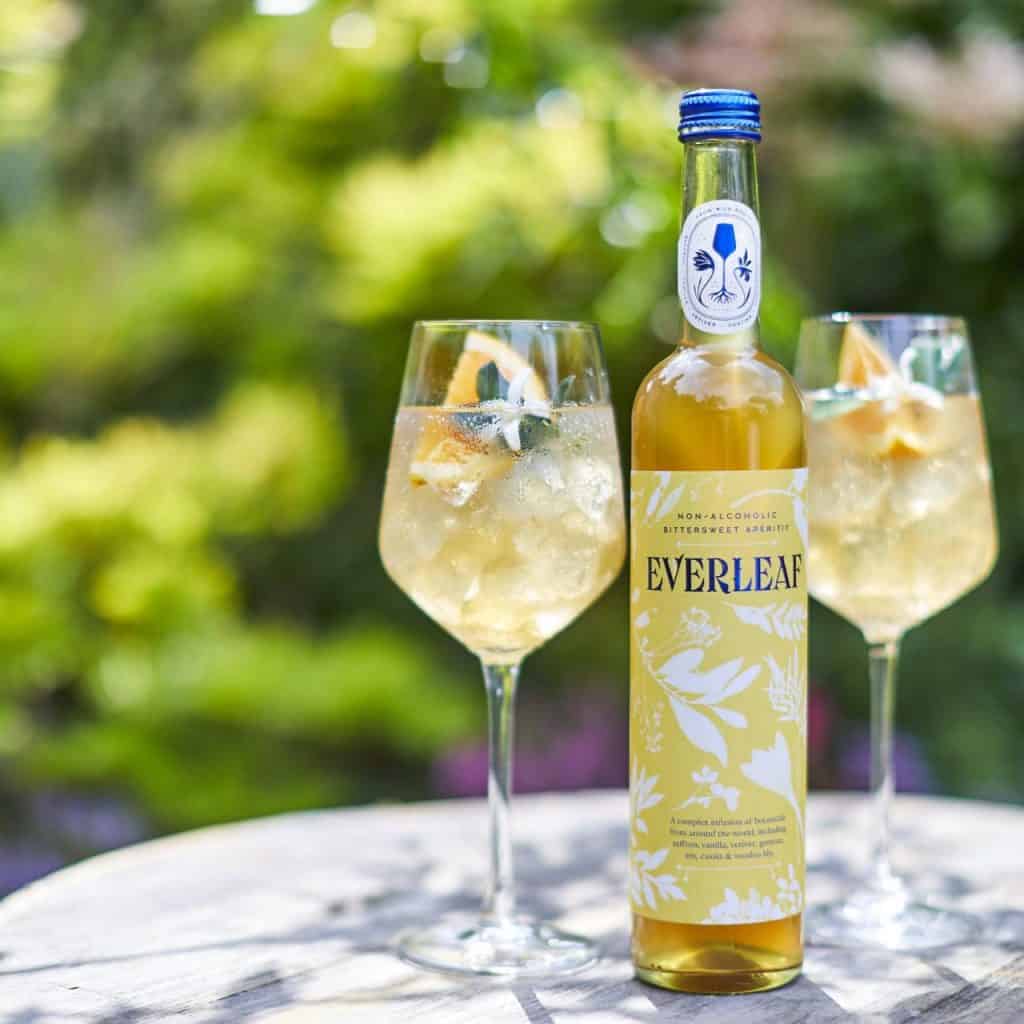 Everleaf has been a favourite of ours for a while. They use a blend of 18 sustainably sourced botanicals, from Madacascan Vanilla to Spanish Saffron, Voody Lily, vetiver and orange blossom. This makes for a complex and bitter aperitif. Simply mix it over ice with a classic tonic (1 part Everleaf to 3 parts tonic), garnish with a wedge of orange and you have the perfect Summer spritz.
Drink them as they are…
Mixing drinks isn't for everyone, sometimes we just want to crack something open and enjoy it. Here are some things we enjoyed.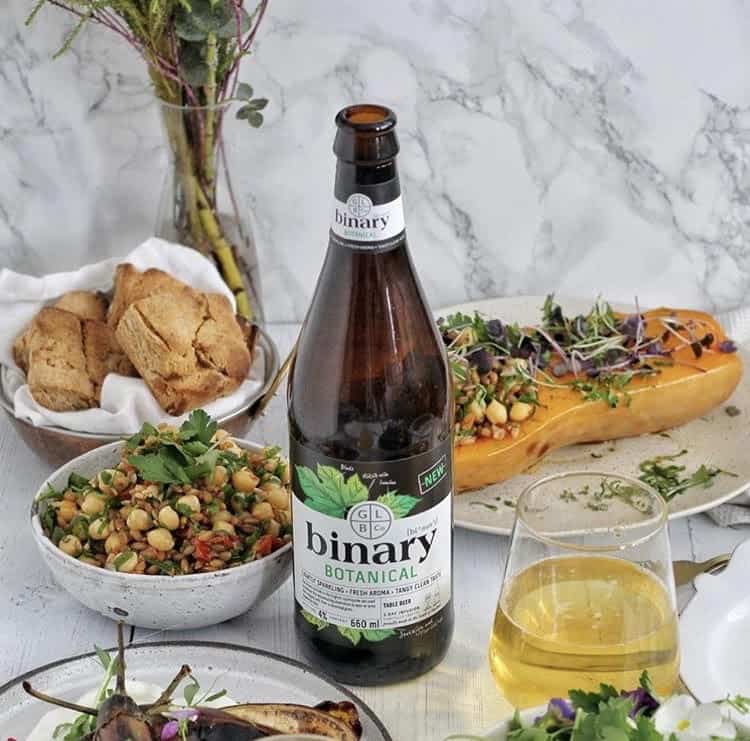 Binary is a new style of beer that uses an organic hop leaf infusion to give a tangy rather than bitter taste to a light refreshing 0.5% beer. Aromatic, flavourful and gently sparking – binary is best enjoyed when paired with food. This is marketed as an alternative for beer or wine drinkers, and we can see why. It's light carbonation and orchard flavours are reminiscent of sparkling wine, but the hops nod towards beer. This is also vegan and gluten-free.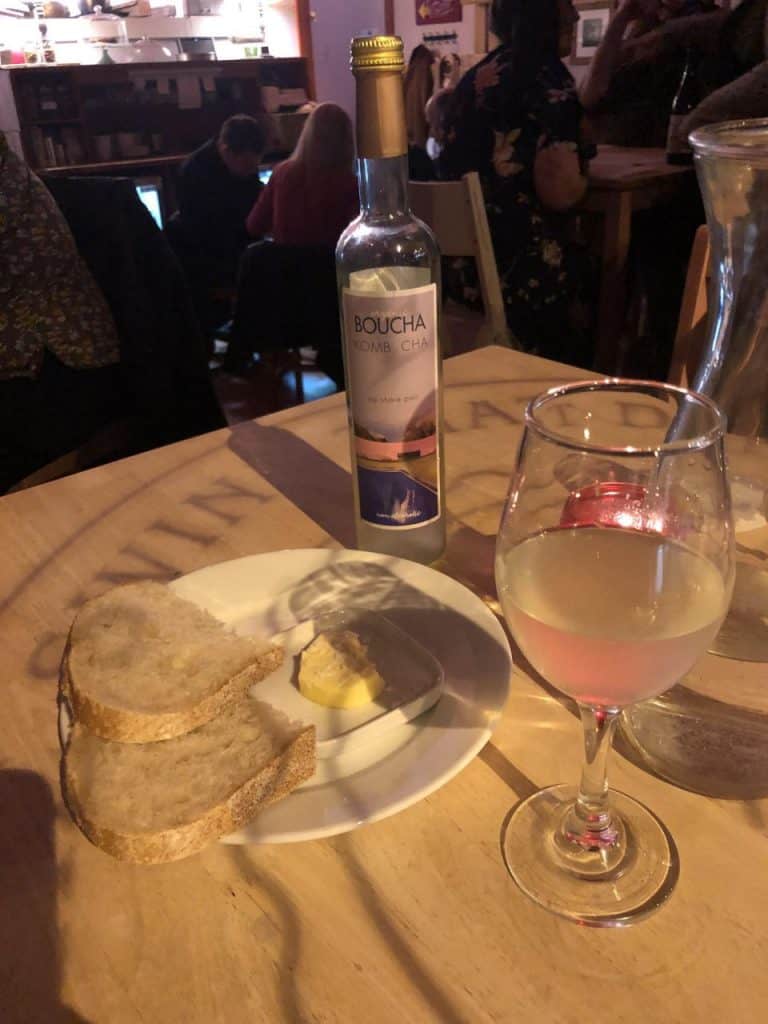 This is a crisp, clean kombucha with moderate acidity and low sweetness. Again this is another one for enjoying with food, it works well in place of a wine. It's presented in a full-height bottle, the presentation is quite beautiful. This is zesty, with notes of quince and gooseberry, reminiscent of a delicate sauvignon. It also has a dry finish. A truly grown-up drinking experience. Order direct from them, and serve chilled in a stem glass.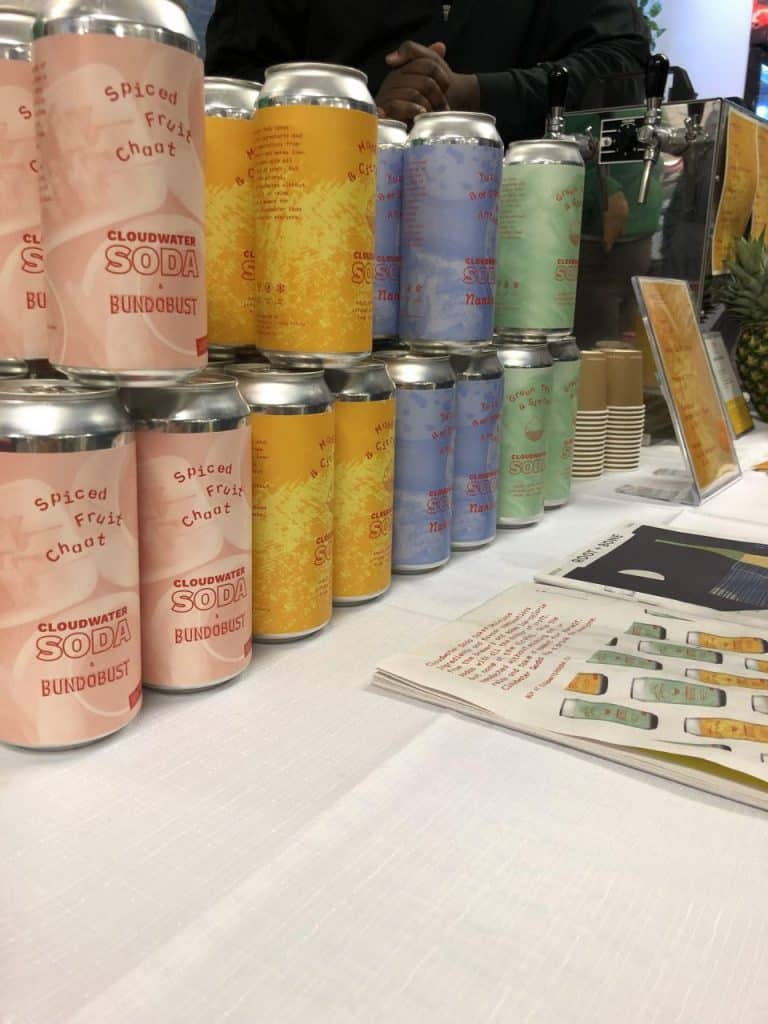 Cloudwater began brewing full-strength beer in 2014, but have recently started work on their new project, Cloudwater Soda. These are 0.0% low-calorie low-sugar infusions using ingredients from the brewery. Each soda is flavoured with a different hop, whose character will best complement the fruits and other ingredients used. Try their Green Tea & Simcoe in the morning, and their Mango, Cumin & Citra Sour works brilliantly with spiced foods.
Some brands featured in this article are members of Club Soda, and we work a little more closely with these. You'll always find a couple of them in our reviews, but we remain completely impartial.