Sponsored content
binary botanical have taken a unique approach when it comes to making an alcohol-free beer. Brewed with hop leaves, the 'bine', Good Living Brew Co make two varieties: a 4% one and a 0.5% alcohol-free one. We spoke to co-founder Danielle Bekker about what makes binary so different from other alcohol-free options out there.
What was the inspiration behind binary botanical?
"I like drinking a beer but the whole thing was I don't enjoy having a beer with food. So then you switch to something which has more alcohol in. I do drink alcohol but I'm a big believer in moderation. I just think that if people could have delicious moderation options…then they wouldn't need to have alcohol."
"I think a lot of drinking is just the ritual of it. The ritual of having something in a wine glass, or that sort of thing. And the ritual of having something designed for adults. I'm always thinking, if it's something that I would give my kids, then it's probably not appropriate for me."
"So we wanted to have a beer that goes well with food, lower in the alcohol compared to wine, as well as a non-alcoholic option."
"A beer for food – and moderation!"
What makes binary botanical different from some of the other alcohol-free beers out there?
"The main difference would be that where most beers have quite a lot of hops, which I think adds a lot of great flavour to a beer, we have a very low level of bitterness. We had the hop leaves instead of the hop cones."
"The leaves, which are normally a waste product, infuse into the beer, like a tea infusion. This gives you a lovely tangy taste which would be more like a dry, white wine, rather than a traditional beer."
"It's made like a normal beer, it just doesn't taste like a normal beer!"
What kind of drinkers would enjoy binary botanical?
"I think if you like sour beer, this could be a good option. Or if you like a shandy, or a cider, or a sparkling wine."
"It's not very sweet at all, so any product that's not very sweet and not bitter."
"If you're not normally a beer drinker, suspend your belief and give it a go…If you think 'Oh I don't like beer and I've never liked beer', then this is probably the beer for you"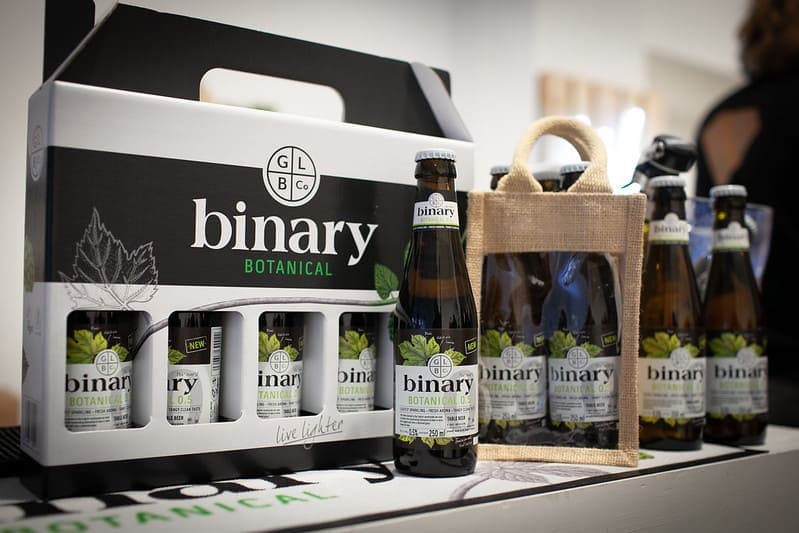 What food pairings would you recommend for binary?
"It goes really well with anything with berries. So any summer fruit berries, or anything like that."
"Asparagus, and anything that's got a lot of fresh herbs, such as thyme."
"And then fish, or a cheese board or charcuterie. People often drink binary with a cheese board actually."
How does sustainability play into binary?
"I think it's quite exciting that there are so many brands coming out that are using waste ingredients…Designing into the product something that gives it much more of a long term sustainable feel."
"We've tried to do that with hop leaves. They're normally a waste product. The bulk of the hop plant is leaves which you then throw away. It's literally 90% leaves. All those get stripped away and thrown away."
"By putting those into the beer, we think it's a good sustainability story."
What does the future of binary botanical hold?
"We're doing a lot of work at the moment about mocktail designs. Using beer as a mixer can make a non-alcoholic cocktail go from being a kiddy drink to being something quite adult. We are really helping people to be creative with what they're doing with their binary at home."
---
This article has been sponsored by binary botanical. Club Soda retains full control over the content.