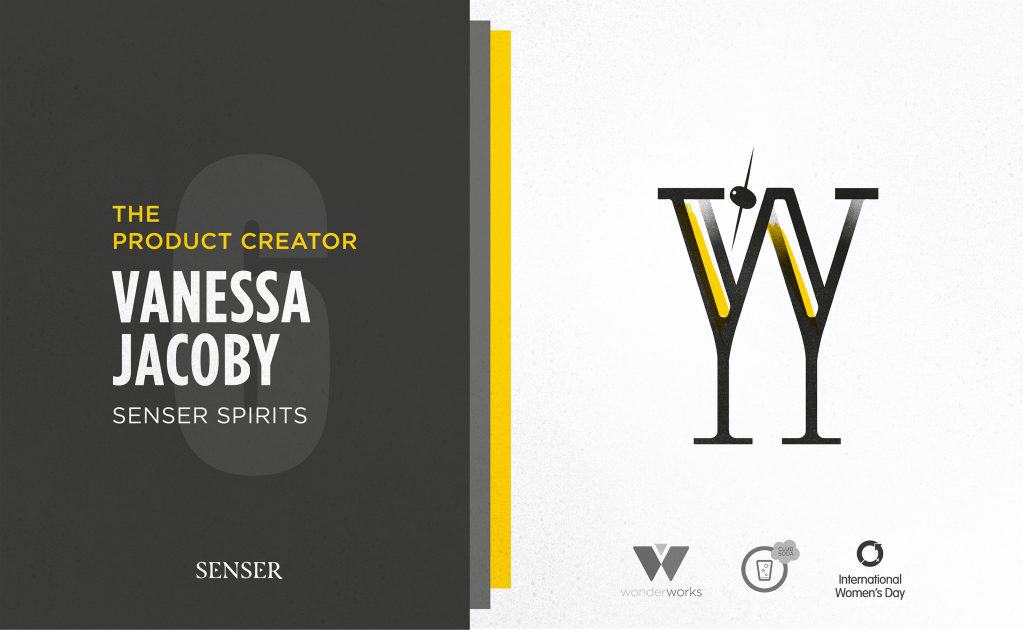 Guest edited by Sarah Wildman-King, co-founder of specialist creative agency Wonderworks Communications.
---
Here's part 6/8 of our Wonderworks series for International Women's Day: Celebrating awesome women in drinks – with a new story being published each day this week. Read more about Wonderworks and their inspiration in part 1 here.
THE PRODUCT CREATOR
Vanessa Jacoby, Co-Founder of Senser Spirits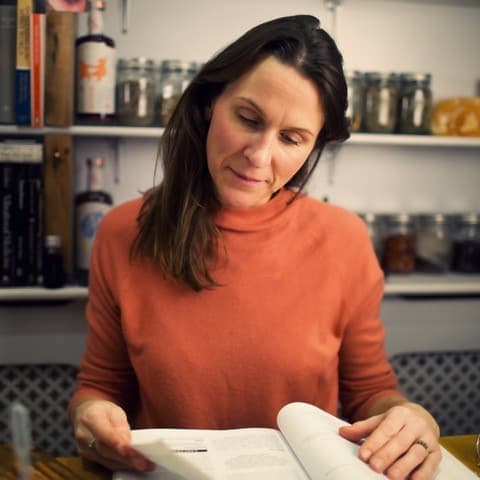 Vanessa is one of the Co-Founders of Senser Spirits, a range of alcohol-free Plant Spirits, which are carefully crafted to lift your mood without clouding your mind
Can you tell me what your current job entails?
I am a product manager working really closely with a number of different teams to create our new drinks and the processes we needed to move these from product formulation and process in my lab to scale up at factory level. It has been an amazing journey pushing the boundaries of what's possible with functional drinks that taste great and mix well.
I am responsible for our herbal blending, which means work with botanicals to understand their flavours, tastes and energetics. For me, herbal blending isn't just about creating a tasty product it's about making something that helps us to feel good. I like working with plants that are known to have biological actions on the body such as stimulants and relaxants. This makes the blending process more exciting as I get to research and sense the plants and feel how they affect my energy system.
I also spend a lot of time on events and we've got an amazing team of extremely talented, lovely people.
It's a very varied role which suits me, I came from a world where no two days were the same and am pleased my new role is the same.
And how did you get to this point in your drinks industry journey?
I had been working in the city as a computer programmer for 12 years, a little stuck and unable to see a way out. My mum had invited me to her yin yoga class where I had an awakening experience caused by a singing bowl placed on my heart. That was 2016. It was the first time I'd experienced being truly alive and full of vitality.
This profound personal transformation led me into the plant realm. I discovered an ability to tune-in to nature's intimate energetics.
Through meditation, more clarity on the way I was going to work with plants came to me. Then with some help from herbalists, I started to innovate a range of highly-tuned, multi-award-winning plant-blends in 2016 – including teas, tonics & tinctures.
What's your favourite part about working in the industry?
I find it so exciting as there are so many components to the drinks industry so I'm always finding out new things. This new role has enabled me to come out of my shell so much and it has been wonderful to experience my confidence growing. As a computer programmer, I would spend weeks at a time hardly speaking to anyone and became a bit hermit-like! Now I have been able to spread my wings and connect with so many wonderful interesting people.
The last 18 months of Senser has had me really focused on the liquid creation, as we work with lots of plants rather than extracts it has been quite an in-depth process! In 2020 I am finally getting out there to share the drinks and I'm finding that really interesting.
And least?
This is definitely our lack of commercial experience. A marketing or sales degree would have been very useful! But 2020 is looking up for us as we are stepping up.
I'm particularly interested in why you have a focus on the no & low sector?
Alcohol was a big part of my husband James and my life for a long time. We would regularly share a bottle of wine a night.
After my singing bowl experience, I gradually stopped enjoying the feeling of alcohol but still wanted a 'special' drink.
One night in early 2017 I had planned a 7-course taster menu paired with alcohol-free drinks, the 7th of which was a Rose, Lavender and Blue Lotus Martini. Everyone felt the drink, which was rather exciting and compelled me to create a range of functional, non-alcoholic Spirits. We created a Festival Bar and over 18 months discovered these drinks were something the world wanted.
What excites you about it?
For me, it's all about function. I'm excited about working with plants and finding the best methods to extract the compounds and keep them present in the drinks. I have been quite the herbal geek over the last 3 years, sourcing hundreds of plants to learn about them to understand their properties and effects. Just because we are in the No & Low sector doesn't mean we have to create drinks that have less in them. We have made Plant Spirits that happen to be alcohol-free at 0.0% ABV but each bottle has been created with 25-30g of botanicals.
What frustrates you?
The drinks category is quite competitive and there are lots of well-supported brands. It can be quite frustrating when it feels like our message isn't getting out there.
What has been the hardest lesson you've learnt since being involved in no and low?
As I didn't come from a sales and marketing background I've had a lot to learn about how the sector operates. I've made mistakes but these have taught me very valuable lessons that make us stronger as a team.
What trends do you see coming through at the moment?
Definitely the rise of the functional botanicals. If we can drink something that contains things such as; anti-oxidants that are known to help us process the free radicals that we are constantly bombarded with, adaptogens that are consumed to help us better handle the stress of day to day life, natural stimulants that herbalist say give our bodies & minds a boost, this to me seems like a natural choice to make.
And what has come to market that you see as being not around for very long?
Some of the No & Low category is about what's taken out or missing. I think functional drinks will take over as people look for more substance in their drink choices.
Who do you see as driving demand? Consumers. Producers. Industry bodies. Club Soda?!
I believe that alcoholic and non-alcohol drinkers are thirsty for new experiences. I think that just because they don't drink, or want to drink less doesn't mean they don't want something special and a little bit fun!
We run a bar at many festivals across the summer and just because people aren't drinking alcohol doesn't mean they don't want a really special drink to treat themselves to something made with care and great attention to detail.
I am also aware that governing bodies want to reduce the negative impacts of alcohol on communities and individuals and feel we have support from the industry to help provide some potential solutions to these issues.
These are the individuals and collectives such as myself who through their own personal experiences or moments of clarity have decided to make something that they really believe will make a difference to consumers.
Does being a female in the drinks business create barriers or opportunities?
At this point, I'm not sure it makes a difference one way or the other. I believe if you have something special, if you're passionate and driven, then a path will show itself and doors will open.
What's your Wonder Woman mantra? Or the best piece of advice you have been given?
In 2017 our friend Elizabeth Carins gave us a signed copy of her book "Empowered Entrepreneur" with a handwritten comment: "Stay connected, trust those instincts, follow your heart and enjoy the unfolding". I couldn't agree more.
What inspires you?
Discovering how to harness nature's innate ability to nourish body and soul, to stimulate the senses, to transport and delight!
What are your fears and limiting beliefs?
Humans are defined by how they respond to their fears. I always see those moments as opportunities to rise to a challenge and to grow in liberation and power.
Or secret powers?
Intent; a clear desire and the willpower to realise it.
For a woman coming into the industry would you have any words of advice?
If possible make sure you have something different, not just better. Find powerful allies and a significant budget to get established.
And finally, what are your plans for the next couple of years?
Our vision is to bring consciousness to drinking. As people increasingly relate to each other with clear heads and open hearts, they will look to nature to get their needs met and there they will meet us.
We see a future where power-plants feature in every cup, flask and glass: – A new breed of special adult drinks that shift our state in a healthy, sustainable way.
---
Stay tuned for part 7 tomorrow!