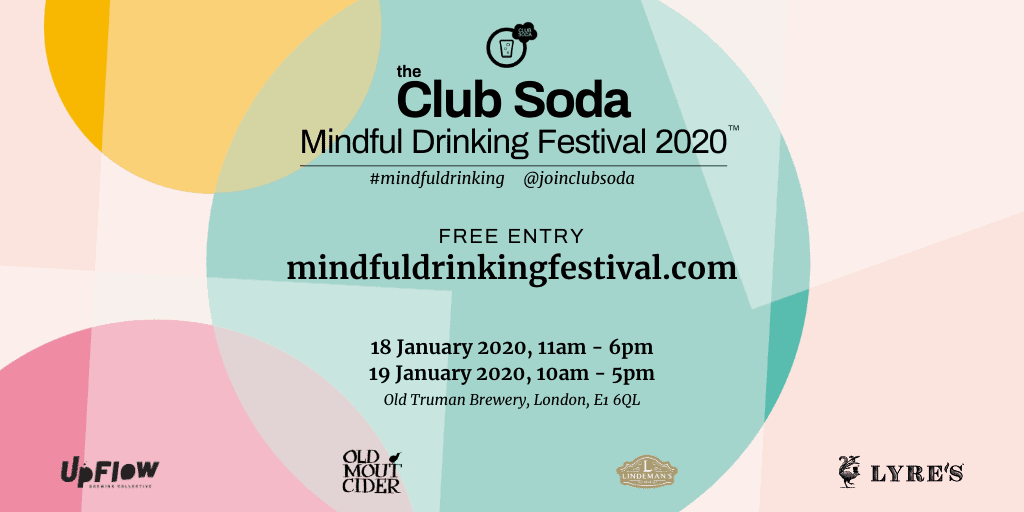 Each year, we love to see more and more new drinks appear at our Mindful Drinking Festivals, showing how much the alcohol-free drinks market continues to grow. We wanted to introduce you to some of these new options through telling their stories.
Celtic Marches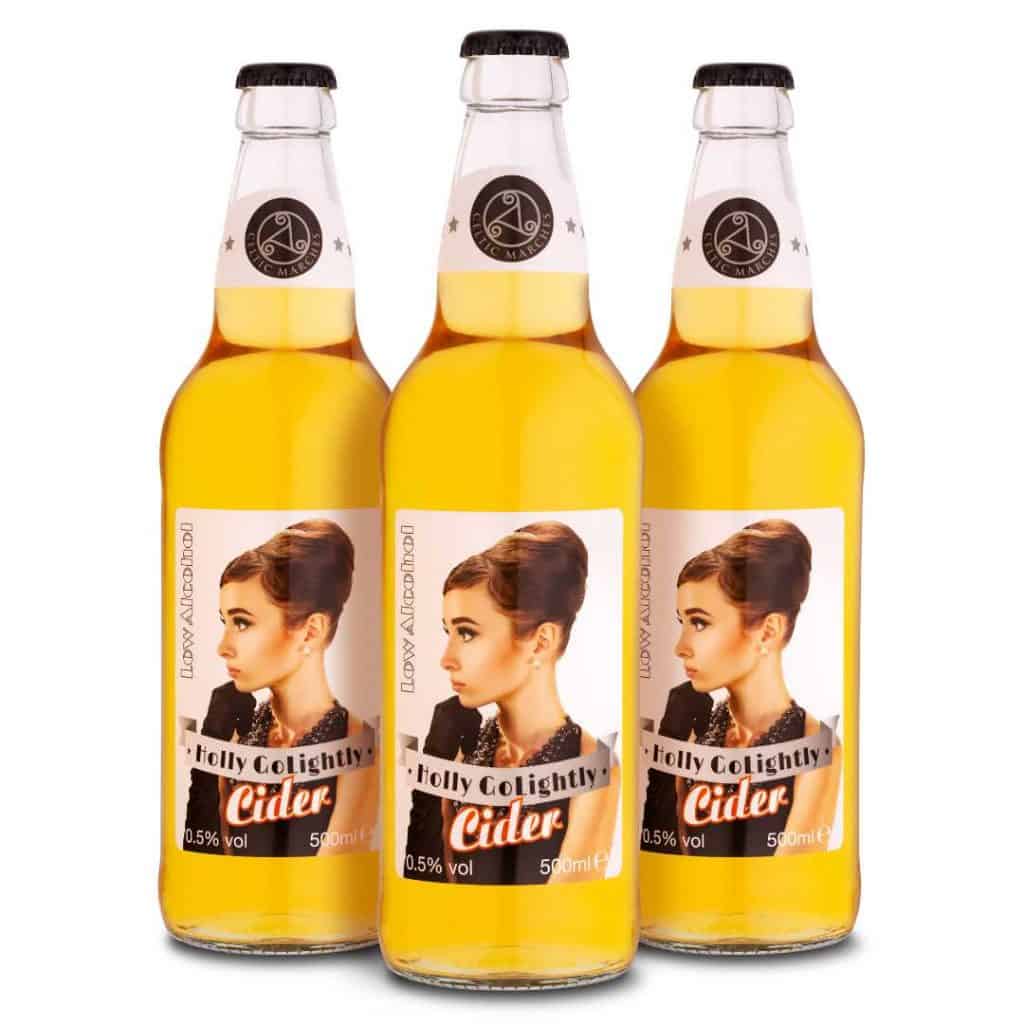 Based out of a family farm in Herefordshire where they have been growing fruit and hops for over 100 years, Celtic Marches include Holly GoLightly as their 0.5% option within a large range of ciders.
"We wanted to offer an alternative to high ABV ciders, whilst still maintaining the taste qualities of British cider that we love," they told us. "We set out to produce a consistently great tasting, high quality, low alcohol cider. Our team worked endlessly to balance all of Holly GoLightly's core qualities. Retaining the taste, end bite and nose was no easy feat. Our refreshingly low cider has succeeded in surprising even the hardest critics."
Sipling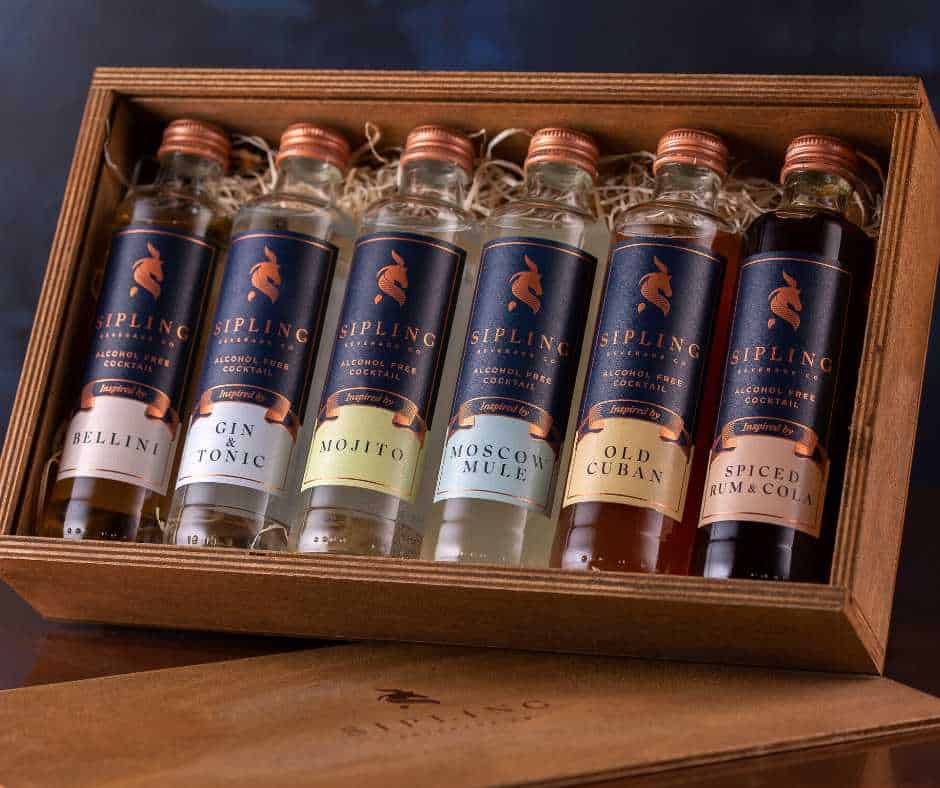 The story of Sipling is one that will be familiar to many of us. When founder Avnish Babla and his wife were trying for a baby, they wanted to embrace a healthier lifestyle. But while Avnish's wife found it quite easy to change her drinking habits, he struggled. "I found it very difficult given my career in financial services and the culture of excessive drinking."
Avnish describes himself as a 'dinner party mixologist'. "I loved making cocktails for friends and family at dinner parties, so I was curious to see if I could make alcohol-free versions of the cocktails I loved." He spent 12 months experimenting in his kitchen before launching Sipling in September 2019 with 6 non-alcoholic cocktail recipes covering everything from a G&T to a Moscow Mule, to a Mojito.
Drynks Unlimited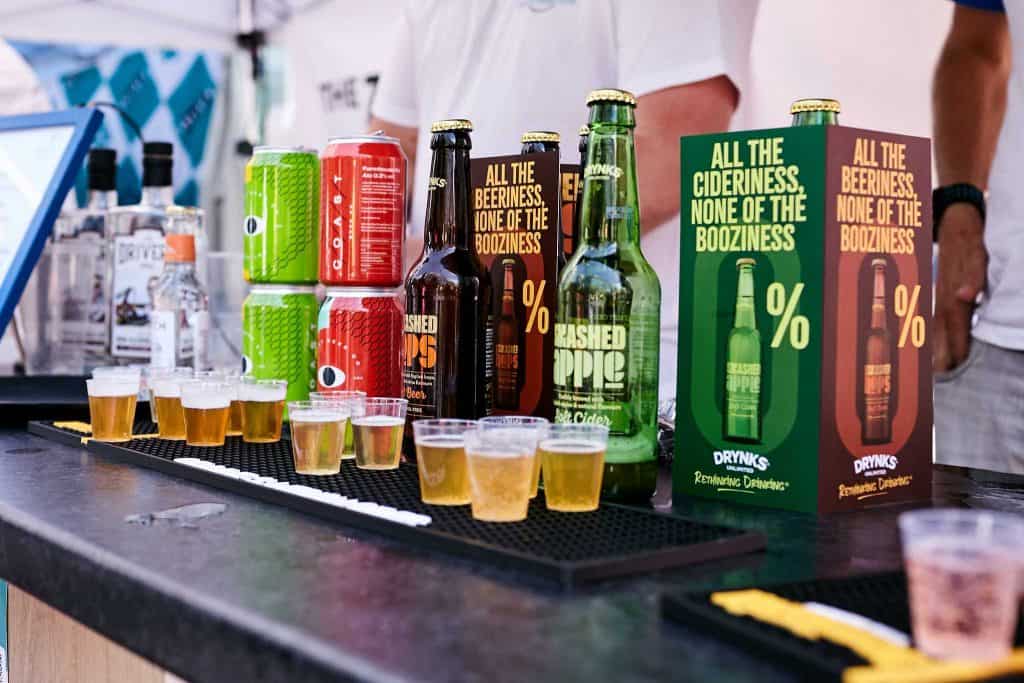 Drynks Unlimited are known for their 'Smashed' series with a range of alcohol-free beers and ciders. They produce their drinks through a £1million investment that uses the cool vacuum distillation process to remove alcohol whilst retaining the character and flavour of the drink. Richard Clark, their founder and MD, told us: "We are a close-knit team of drinks experts who have worked in the industry for a long time, and have a shared vision to create the best quality AF drinks out there".
The 2019 additions of their Smashed Berries cider and Smashed Citrus beer takes their 0.0% range up to four, alongside their Smashed Cider and Smashed Hops.
ISH Spirits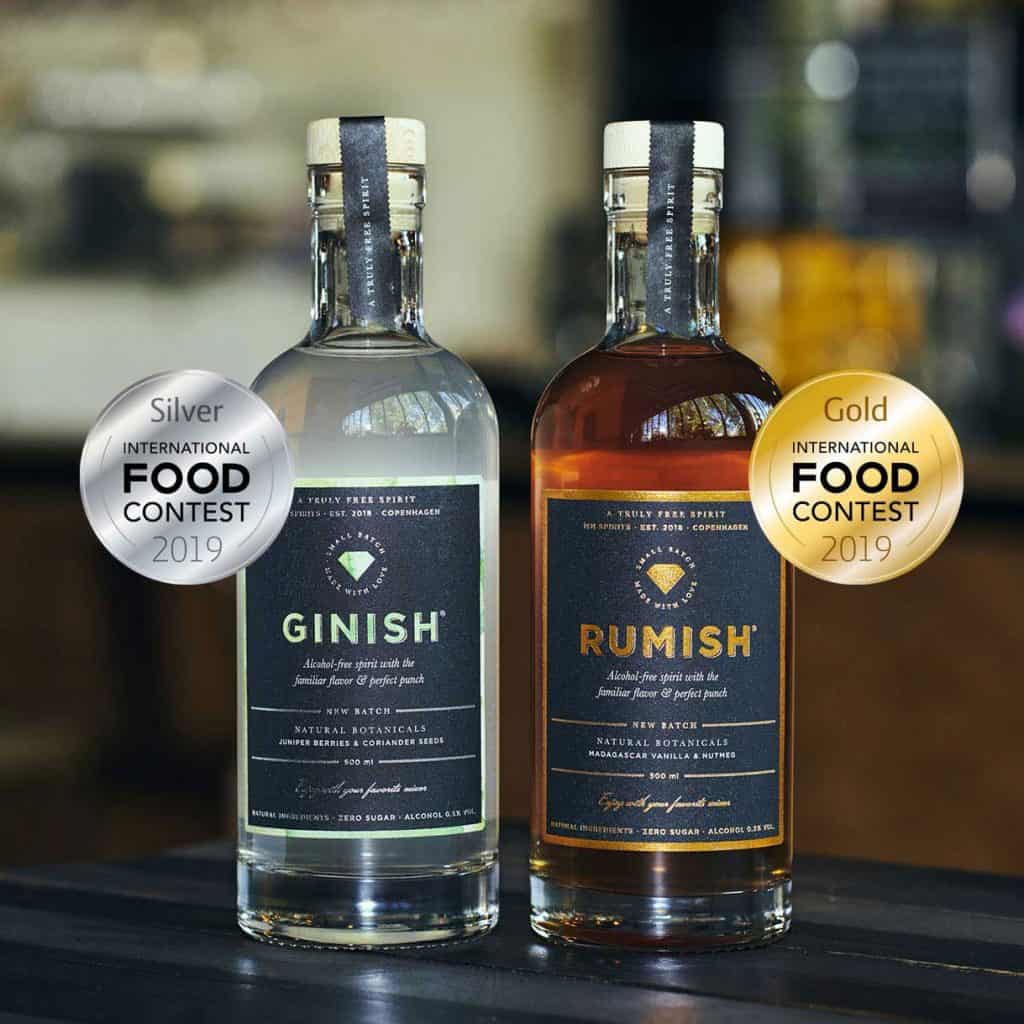 ISH Spirits came about after founder Morten Sorensen participated in a 100-day alcohol-free challenge.
"I realised how limited my options were when I was craving that familiar cocktail experience" he told us. "During this time I also realised there was an absolute need to turn the tables on the social norms of drinking."
Morten created GinISH and RumISH, two non-alcoholic spirits, to "provide an alcohol-free option for those who don't always have the desire to drink alcohol, but appreciate the social aspects of enjoying a cocktail".
"It's for those who can tear up the dance floor sober, and for those who simply want to wake up with a clear head on Sunday morning"
Wild Life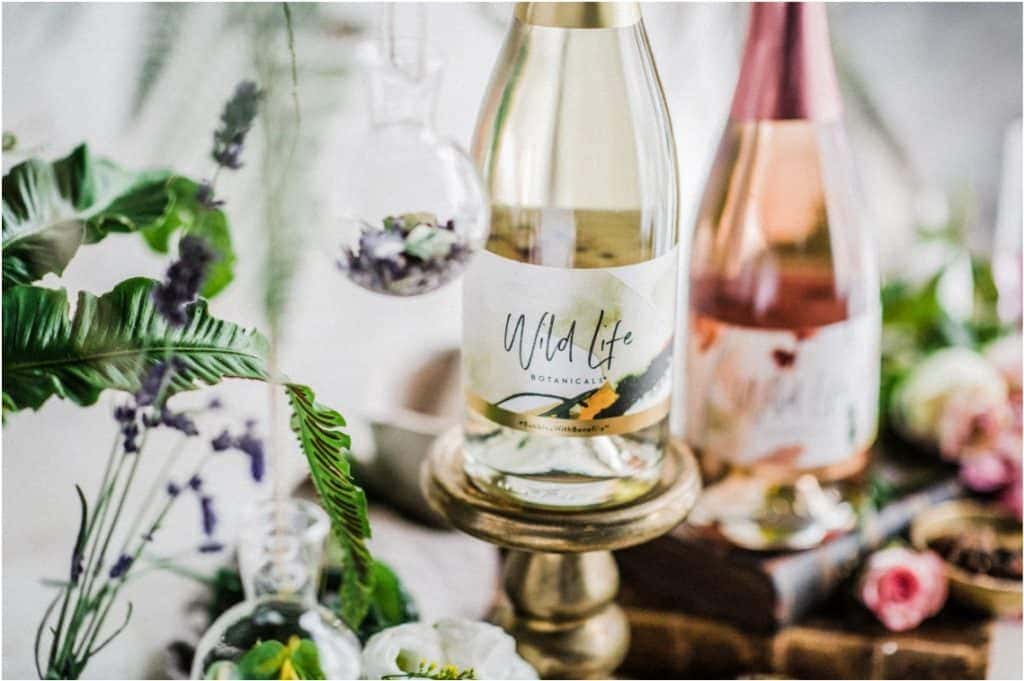 Wild Life Botanicals have created two unique sparkling drinks made with an elixir of vitamins, minerals and botanicals, each chosen for their health-giving properties.
Ellie, their founder, told us "With a background in luxury food, drink and hospitality I appreciate good wine but like so many of us that juggle the performance of work, life and parenting, I couldn't find anything that appealed to my dry palate in the sparkling wine category that was ultra-low in alcohol when I needed it to be."
She found herself in a situation we have all been in. "I was bored of sparkling water, elderflower press-d out and didn't want the high sugar content often found in so many soft drinks." That's why she created Wild Life Botanicals – to make a health-boosting, low alcohol drink that doesn't make your taste buds shrivel up! "Wild Life Botanicals is all about empowerment to live your best life and in three simple words really is 'bubbles with benefits!"
Nine Elms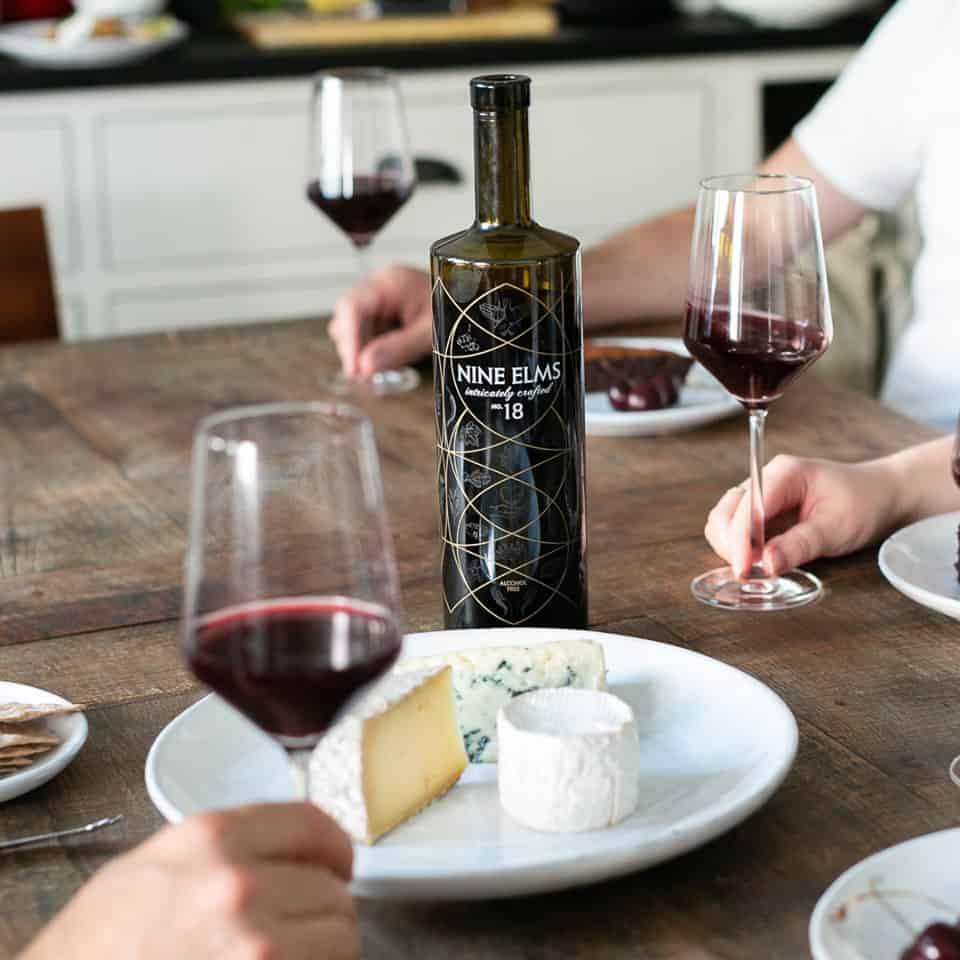 Nine Elms have been tipped for big things for their drink designed to pair with food which is reminiscent of a red wine but is made by blending the juices of 4 different berries along with the botanical infusions of 20 different flowers, herbs and spices. It was created with the intention of being a straight pour but can also be used in cocktails.
"We were frustrated consumers," said joint-CEO Simon Rucker. "We focused on the idea that we needed to create something new, from the ground up, not try and make a de-alcoholised product taste better"
Nine Elms are looking forward to the future too. "We're going to build on the great start we've made by getting listed by restaurants like The Clove Club and Decimo at The Standard Hotel. And then we're going to be launching our next variant." Fans of tannins have a lot to look forward to with Nine Elms on the scene.
Binary Botanical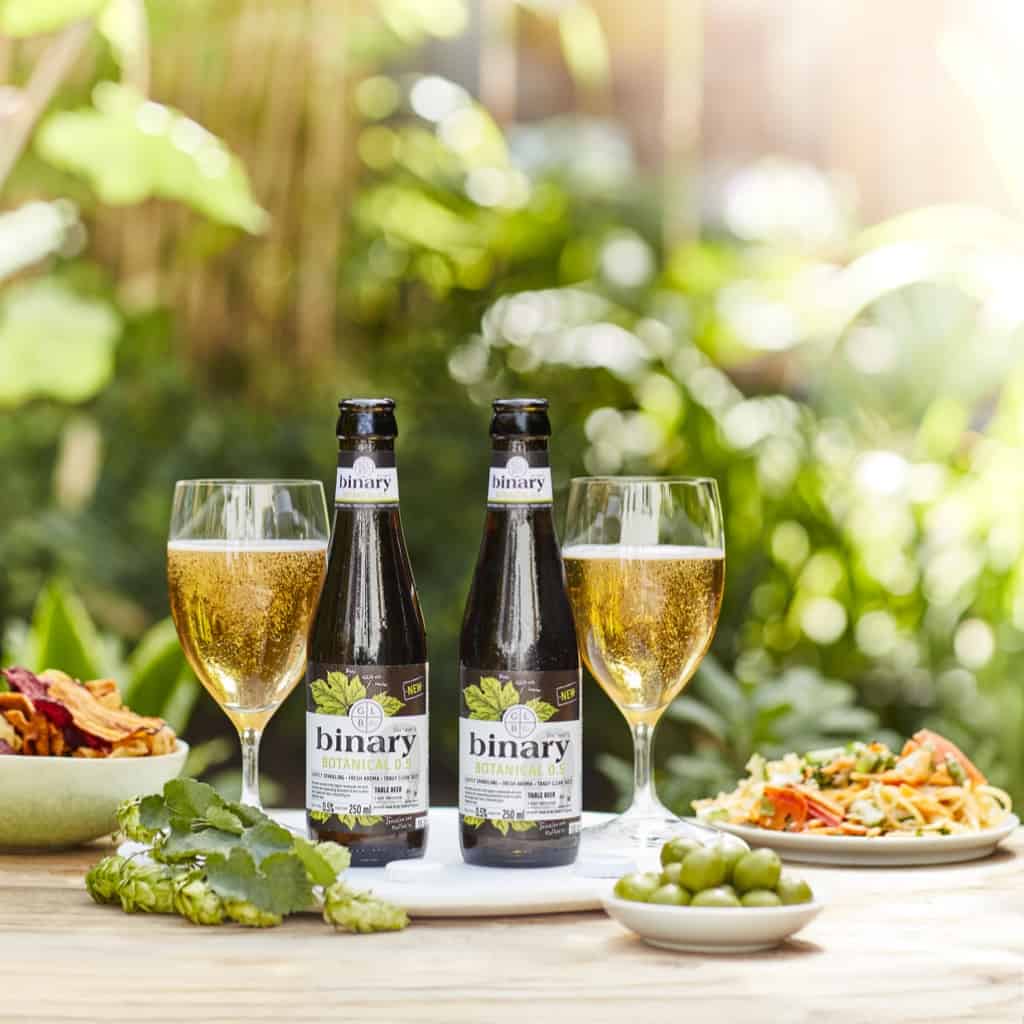 Good Living Brew Company combined their love of science with the art of brewing to create Binary Botanicals. Having watched the growth of the low and no beer market, Danielle Bekker, Alchemist of Good Living Brew Company told us: "We saw an opportunity to build on this innovation and appeal to customers who would previously not even considered beer."
Bekker saw the influx of consumers into the low/no alcohol scene as an opportunity to turn new people onto beer. "There is nothing more exciting than when someone who says 'I don't drink beer' is converted after tasting Binary". Referring to it as a "wine lover's beer" she says it is "brewed for food – to provide adult sophistication when you are not drinking."
Brewed with hop leaves, it has a tangy rather than bitter flavour, reminiscent of cider or wine.
Mocktails
Mocktails wanted to offer bars an easy way to serve up high-quality non-alcoholic cocktails to their customers without resorting to sugar-heavy soft drinks.
"When our families got together, we discovered that we were all searching for fun alcohol-free drinks without the artificial ingredients, preservatives or high fructose corn syrup", said founder Bill Gamelli. "Water is healthy, but boring when you're with colleagues, friends and families."
Starting with small-batch recipes, they have now launched four ready to drink alcohol-free cocktails. "We all wanted something delicious and crafted to be enjoyed with food or to join the party anytime. Was this too much to ask? No way."