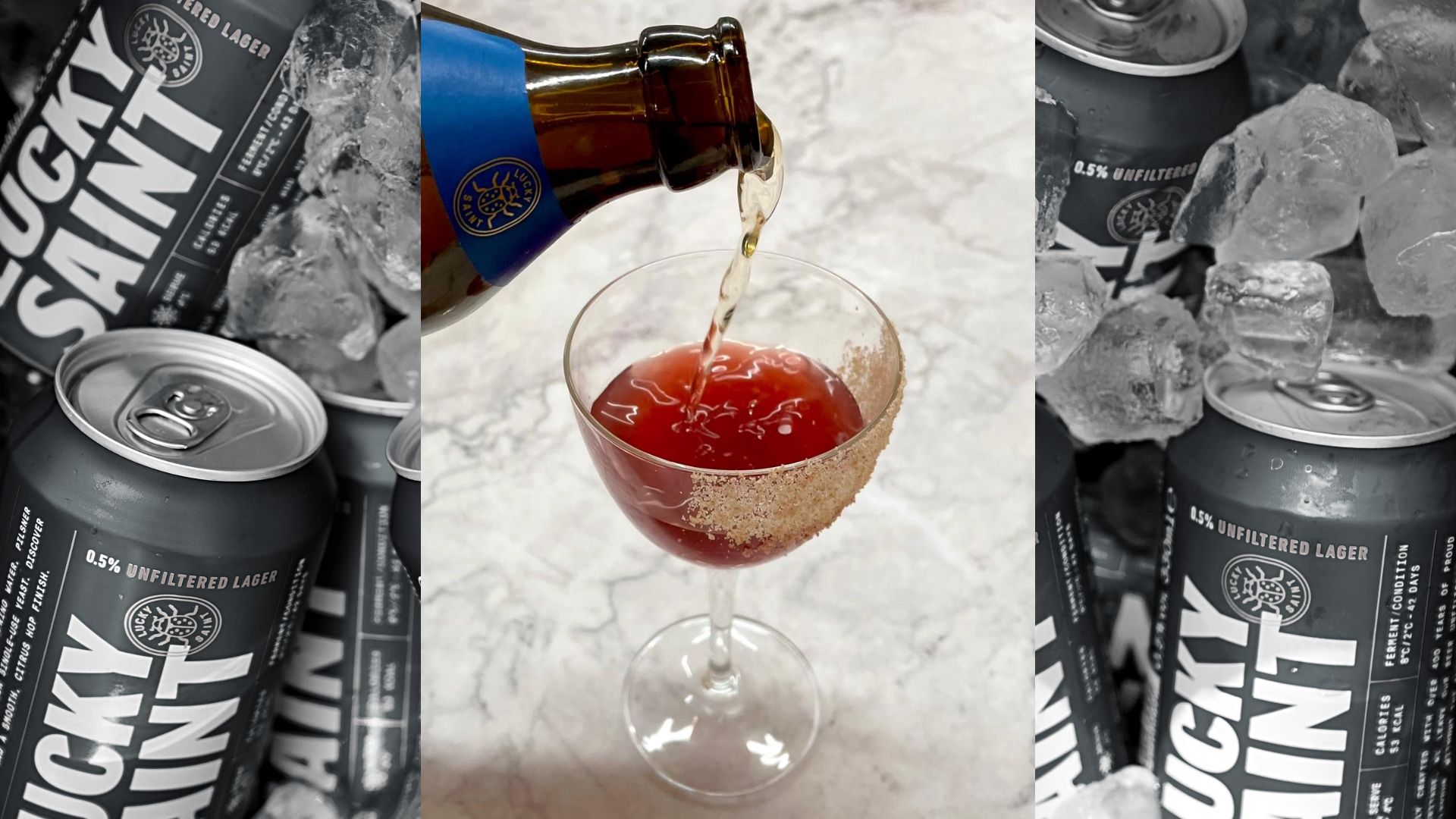 Cocktail Club: Cocktails with beer with Lucky Saint
Have you ever wanted to learn how to make delicious cocktails for a party? Are you looking for a unique way to socialise with friends or meet new people while enjoying delicious cocktails?
Look no further. Club Soda has the answer. Join the UK's only dedicated live alcohol-free Cocktail Club experience.
We showcase some of the best drinks ambassadors from the best alcohol-free spirits brands every month. Discover variations on classics, tips, tricks and techniques to make alcohol-free cocktails super delicious and simple to replicate.
This month we explore using beer to make great summer cocktails. A perfect alternative to soda or tonic for a long cocktail. It can be used to create everything from a simple summer cup to something more sophisticated like our Father's Day cocktail, With A Little Luck, made with Three Spirits Livener, Lyre's Orange Sec, All The Bitters Orange and topped with Lucky Saint.
Cocktail Club is a chance to get hands-on, as we guide you step-by-step through making great alcohol-free cocktails. You'll learn tools and techniques to make cocktails at home, get in-depth insights into the flavours and characteristics of different alcohol-free spirits, and discover how to make the best of mixers and other ingredients.
We'll welcome you to Cocktail Club with a complimentary drink, and snacks are provided throughout your evening.
Meet the makers innovating fantastic drinks
Learn how to taste alcohol-free spirits and explore unique flavours and characteristics
Experts guide you step-by-step through making two fabulous cocktails.
Build your skills and confidence with guidance from the Club Soda team
Discover how to make your perfect serve at home.
Exclusive discounts are available in-store on the night.
Each Cocktail Club features different spirits, and you will have the opportunity to try other products in the Tasting Room too. There will be exclusive discounts available in-store on the night. And most importantly, Cocktail Club is a chance to mingle and meet other cocktail lovers. As you create your cocktails, you'll have the opportunity to socialise with others in the group.
This is a great way to meet new people who are as excited about alcohol-free drinks as you are. So whether you come along as a solo adventurer or bring friends, you'll leave with an expanded social circle of fellow alcohol-free cocktail enthusiasts.
June's Cocktail Club is with Club Soda and Lucky Saint.
Club Soda's Head of Creative Noah Villeneuve has been forging his path in the hospitality industry for the last 12 years, from sticky-floored music venue pubs to fast-paced free-pour bars. In that time, he has helped to curate and adapt menus for various alcoholic and non-alcoholic brands of all sizes, with his recipes featuring in Men's Health, Time Out, The Times, London Fashion Week and Amsterdam Cocktail Week.
Since getting sober in April of 2022, his focus has changed to the no and low beverage industry, and he is now the head of Creative Development for Club Soda, and in charge of cocktail menus at the Tasting Room on Drury Lane.
A musician who has been fronting, singing and playing guitar in indie bands around the UK, he's hoping to rock out to the spirits category during judging, particularly aperitivos and digestifs.
Lucky Saint is a Superior Unfiltered Lager, brewed with centuries-old techniques to create a truly modern lager, their beer is left unfiltered for maximum flavour without the alcohol.