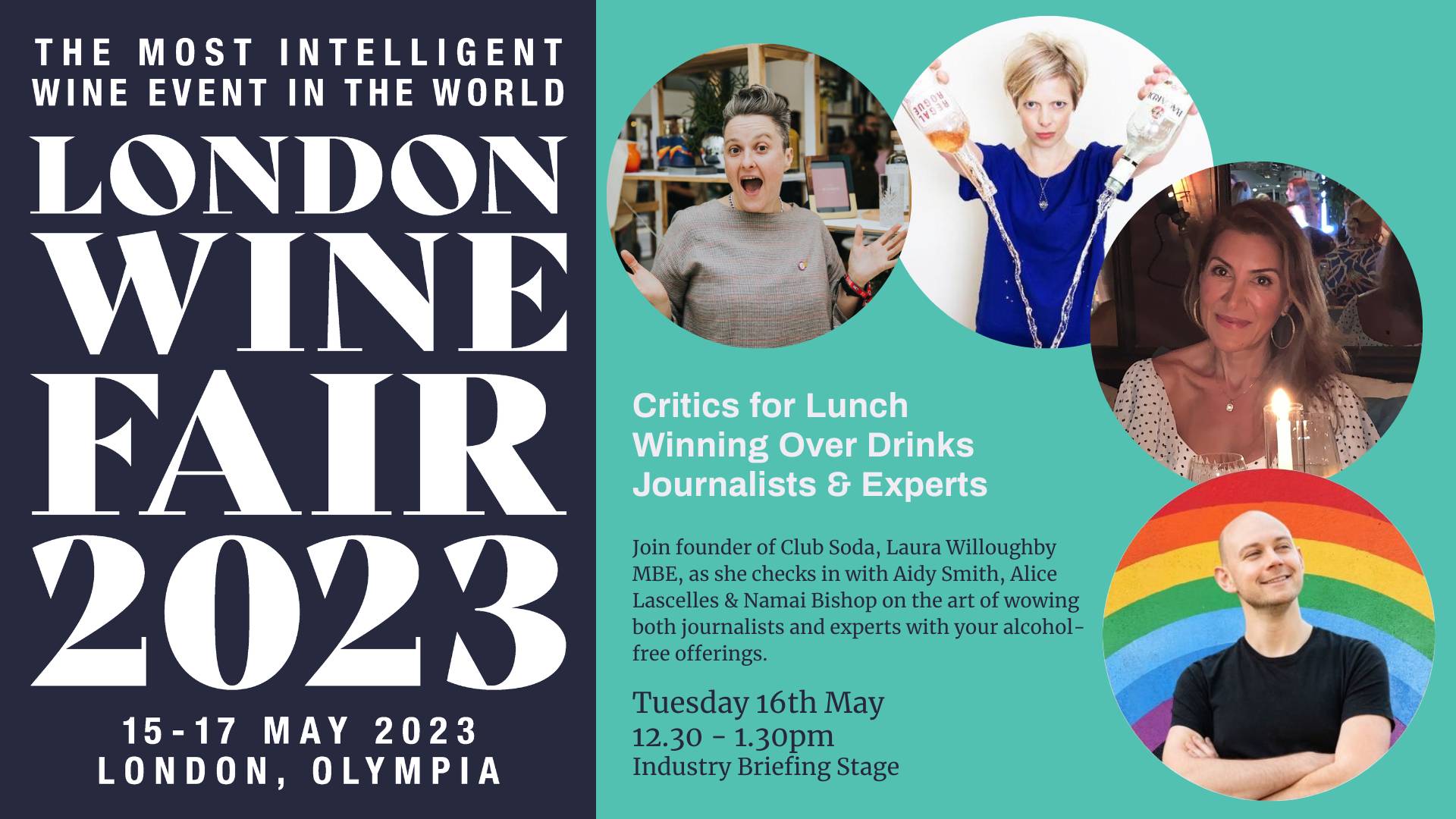 Critics for Lunch: Winning Over Drinks Journalists and experts – London Wine Fair
Join the founder of Club Soda, Laura Willoughby MBE, as she checks in with top drinks thinkers on the art of wowing journalists and experts with your alcohol-free offerings. Do you have what it takes to leave a lasting impression on a drink writer visiting your venue during weekdays or even for lunch? Learn about the key factors journalists consider when evaluating a venue's drinks selection and gain insights on catering to increasingly diverse patrons.
Expect a lively and thought-provoking session and lots of involvement from you!
With Aidy Smith from Three Drinkers, Alice Lascelles, drinks writer for The Financial Times, and Namai Bishop – MD & Founder LUXEPRIVÉ Travel
Aidy Smith, is an award winning TV presenter, speaker and journalist with a particular focus on drinks, lifestyle, travel and diversity topics.
As a presenter and producer of the widely successful TV series on Amazon Prime, The Three Drinkers, Aidy proudly flies the flag for LGBTQ+ communities and those with disabilities. He is one of the only TV presenters in the world with Tourette syndrome, actively pushing to raise awareness on this topic. Series 1 and 2 are now live on Amazon Prime, with Series 3 in pre-production, filming June-July 2022.
Aidy writes the weekly online drinks column for the Evening Standard alongside being the Global Brand Ambassador since 2017 for Vivino, the world's largest wine community and marketplace. His work can also be seen across a number of publications including The Independent, The Guardian, i Newspaper, Daily Mail, Daily Mirror and more.
He has spent his career developing a fun and curiosity-piquing mind-set to drinks and has one of the largest Instagram followings (@sypped) in Europe for a drinks personality. He is known for his interactive guides, ABC education, masterclasses and witty approach to drinks as he also frequently advises and consults brands on their various digital and consumer strategies.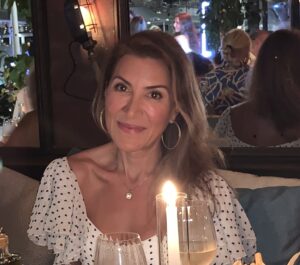 Namai Bishop is Founder and MD of LuxePrivé a 15 year, award winning Luxury Lifestyle and bespoke Travel design agency (best travel design agency / best luxury platform winner, multiple times) with an established client base of top tier clients comprising mostly London, USA and UAE family offices and UltraHigh Net Worth individuals.
LuxePrivé's quantity and quality of luxury booking volumes at Top Hospitality and Luxury sectors ensure it remains the Preferred Travel and Lifestyle partner of top brands including preferred partnerships with: Rocco Forte Ambassador, Hyatt Privé, Shangri-La Luxury Circle, Belmond Bellini, Oetker Collection, Peninsula PenClub, Hilton Impressario, Starwood Luxury Privileges Partner, SLH VIP, Jumeirah Passport to Luxury, Platimum Preferred hotels etc.
Namai is also the International Editor of Yes Chef Magazine, having produced many valuable features on prominent Chefs and restaurants at hotels and also curates destination food and beverage concepts in conjunction with luxury hotels and hospitality brands as well as food festivals internationally.
Namai is Director at BritSpirit, a 2020-established UK C.I.C. to encourage awareness of responsible drinking in the social and professional work place.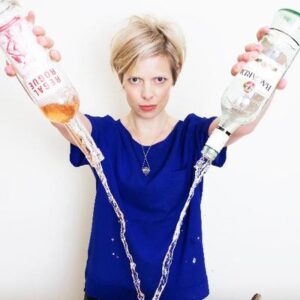 Alice Lascelles is an award-winning drinks journalist, author and presenter.  She is a contributing editor on the Financial Times, where she has a popular column covering wine, spirits and bar culture. Her articles and columns have also appeared in The Times, The Economist, Monocle, Vice, Food & Wine and many trade and specialist publications, including the Oxford Companion to Spirits & Cocktails.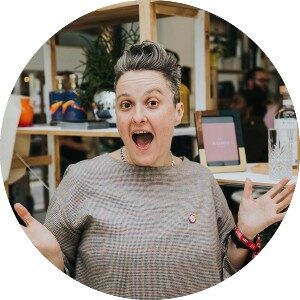 Laura Willoughby MBE is the founder of the world's largest mindful drinking, Club Soda, and the UK's foremost expert in low and no alcoholic drinks.  Club Soda runs the new Low & No Tasting Rooms in Covent Garden.
Receiving an MBE for services to the community in 2004, Laura's devotion to Club Soda means hundreds of thousands of people are supported in their journeys to live well by being more mindful about drinking alcohol.
Laura was voted one of 2022's 100 most influential women in hospitality by CODE, named as one of Drinks Retailing's latest Top 100 Most Influential People in Drink and is a Trustee for The Drinks Trust
Club Soda is the UK's mindful drinking specialist. Experts in alcohol and behaviour change, they also run the Club Soda Tasting Room & Bar in Covent Garden. The Tasting Rooms are a space for consumers to try and buy low and no alcohol drinks and f
or brands to connect with consumers and the trade.  Club Soda is a social impact B Corp Business and creates change, choice and connection through research, events, drinks expertise, corporate workshops, menu conclusion and more.  You can find Club Soda at joinclubsoda.com on social @joinclubsoda and at The Club Soda Tasting Rooms, 39 Drury Lane, London, WC2B 5RR