Like many sports, alcohol is a prominent feature of Formula 1. From sponsorships of teams to sparkling wine being sprayed on the podium, it's hard to watch a race without seeing alcohol present. This is why the emergence of alcohol-free alternatives in F1 has been a breath of fresh air.
Alcohol and alcohol-free sponsorships
In 2016, Heineken launched their 'When You Drive, Never Drink' campaign, providing a responsible-consumption stance for their F1 sponsorship. Since then, Heineken 0.0 has been displayed across racetracks, supporting the presence of a non-alcoholic alternative.
With former World Champions in advertisements spreading the message, including Sir Jackie Steward, it's safe to say Heineken's campaign has been great for challenging the presence of alcohol in the sport.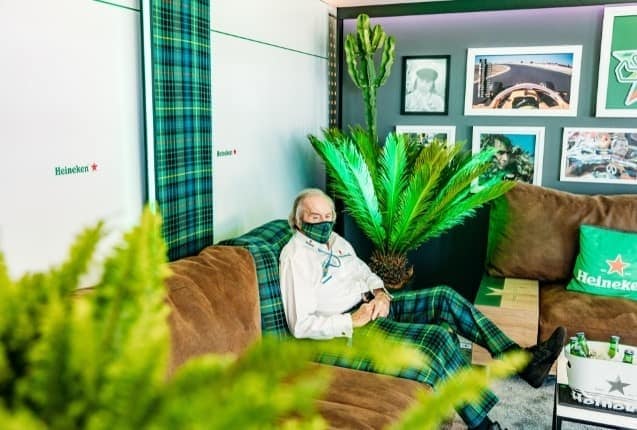 Teams are also beginning to be sponsored by alcohol-free alternatives. Peroni Libera 0.0% announced a long-term, multi-year sponsorship of the Aston Martin Cognizant Formula One team. Hopefully, in years to come, we will see more and more alcohol-free alternatives being present to challenge the prominent drinking culture associated with F1, both as a sport and among the fans and community.
Research on driving and drinks
As part of their commitment to promote responsible drinking, in particular to reduce drink driving, Heineken commissioned Club Soda to conduct a research project. We wanted to understand how drivers feel about the alcohol-free drinks choice in pubs, bars and restaurants in the UK, and how these venues can better support drivers in encouraging them not to drink alcohol. The research consisted of an online survey with 2,000 UK adults who regularly drive, followed by in-depth interviews. We found that most drivers choose soft drinks or tap water when they visit a pub, bar, or restaurant. Therefore meaning venues could provide an equal experience to all their customers and improve their bottom line by improving their low and no alcohol drinks on offer. You can read more about the research here.
The F1 drinking culture
While rosewater is used on the podium in alcohol-free countries, such as Bahrain and UAE, champagne and more recently sparkling wine have been associated with succeeding in F1.
When your favourite driver or team gets on the podium and celebrates with spraying sparkling wine and talking about 'partying hard', it's easy to see why people may turn to a celebratory drink too. But what about those who've cut down or quit drinking recently? Why is it that alcohol is the implied why to celebrate success in sporting events?
Alcohol branding content appears a significant amount during the race weekend, varying from billboards on the track, branding on race suits and cars, as well as during the advertisement breaks. It's hard to escape it, even if you tried. This is why exposure to alcohol-free alternatives is important, as highlighted by research published by BMC Public Health that suggested excessive audio-visual content in F1 could be a driving force for increased alcohol consumption.
It's not just what you see on the tv. Drinking games and trends associated with F1 are easy to come across, especially with the sport's ever-increasing presence on social media. When Daniel Ricciardo first celebrated on the podium by drinking champagne out of his race boot, aptly named a 'shoey', it became a viral trend among the online F1 community to do that same. With alcohol being the centre of celebrations and trends, it's no surprise there is a substantial drinking culture among fans. This raises the question as to whether the display of alcohol should be limited, especially with the rise in young people getting into the sport. I certainly believe it should be.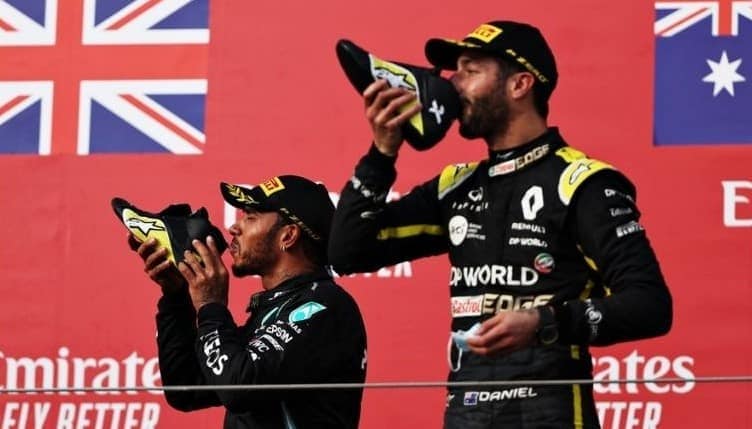 But this could be becoming less so. Along with the increase in alcohol-free sponsorships, some of the drivers themselves have spoken about alcohol consumption. Seven-time World Champion Lewis Hamilton has spoken out about his choice to reduce his alcohol intake as part of leading a healthier lifestyle. Up-and-coming star Lando Norris also expressed his preference to stay clear of alcohol after he scored his first points in 2019, as "things can happen when you have too much to drink".
How to enjoy the Grand Prix alcohol-free
With all of this in mind, and the British Grand Prix coming up this Sunday (July 18th), I've put together some tips so you can enjoy the F1 race weekend (or any sporting event) while being mindful of drinking.
Where you watch. People tend to go to a pub or sports bar to watch sports. So what if you get invited to go along with some friends? Firstly, remember it's ok to turn down an invitation, especially if you don't feel ready or comfortable going. But if you do, make a plan around where you are going, who you are going with, and what you will drink. Why not try an alcohol-free drink first and then decide if you want an alcoholic one afterwards?
Find your favourite AF drink. There are so many alcohol-free alternatives and options out there for you to discover. Finding one you like will take away the worry if you feel like you also want to have a celebratory drink. Need help discovering new AF drinks? Check out the Club Soda Guide!
Talk to your family and friends. Let the people in your life know that you won't be drinking during the event. They'll be ready to support you and you'll be able to relax knowing there's no pressure to drink. Suggest alternatives to drinking, like eating good food and playing along with predictions of what will happen during the race.
Start your own traditions. Just because the top 3 drivers celebrate with alcohol, it doesn't mean you have to. Whether you're watching along or with people, make your favourite mocktail and sip on that for celebrations. Or even just have a dance and a shout if your favourite wins (you'll find me doing this). It doesn't have to be centred around drinking at all!
Remember you're not alone. There are many other people in the AF community that are going through similar experiences to you. You aren't going to be the only person not drinking while watching a sport, even if it may feel like it at the time.
Don't let not drinking get in the way of you enjoying your favourite sports. It's all about being mindful and staying true to yourself and the journey you're on, whatever that may be. If you do find that you need some extra help and support, we are here for you. Club Soda courses are based on behaviour change science and are designed to support you whether that's drinking mindfully or not at all.