Club Soda spoke to Nik Hannigan, Global Brand Ambassador for new Dutch alcohol-free spirit brand FLUÈRE. Nik tells us why he is encouraging everyone to start the new year trying FLUÈRE.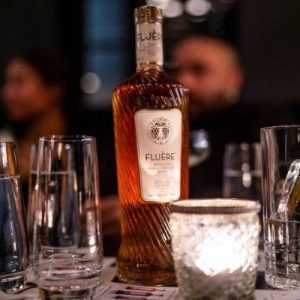 How FLUÈRE was born
"The way the brand came about is that founder Léon Meijers realised that he doesn't always like to drink, but he's a very sociable person," explains Hannigan. "He likes to be out there, likes to be in the moment. And he wanted to create a product that would help him flow in the moment. That's why it's called FLUÈRE. It's about being present, being conscious and being comfortable in your own skin."
FLUÈRE already have a number of different styles of spirit on the market, meaning that there is certainly something out there for everyone's taste. One of the most attractive elements of the drink is its variety. "We've worked very hard to select the botanicals and ingredients that go into it," says Hannigan. "As someone coming from a bartending background, for me non-alcoholic spirits have always been about creating some complexity and depth to a drink, and I think that's something FLUÈRE does very well."
Different alcohol-free spirit flavours
"Finding something with the right kind of mouthfeel, the right balance of flavours and aromas can be a little challenging. I think that's something we manage. Because FLUÈRE is based on the Latin word to flow, for our Original, the botanicals that are in it are inspired by the healing herbs that Roman legionnaires would use back in the day. So we've got juniper, lime peel, lavender, and coriander seed. It's aromatic and floral with a bit of bite."
"For Pink, it's the same base as Original but we've added a distillate of fresh raspberry to give it that extra fruity note. And also to make it look really good!" Hannigan adds. "It's certainly a very eye catching colour. We then brought out Spiced Cane which is distilled from sugar cane molasses and has extra notes of coffee and tonka bean. And the newest liquid is Smoked Agave. We get agave juice and distill it. I don't think there's anything else quite like it on the market!"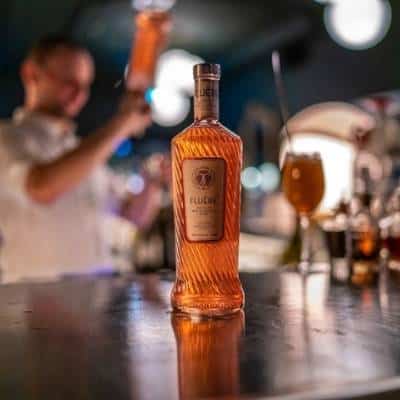 Making quality non-alcoholic drinks at home
With restrictions on hospitality across the UK, one of FLUÈRE's key selling points is that you can use it to make a high quality non-alcoholic drink at home. Nik has spent months digging down to find the best simple serves for the drink. "When it comes to FLUÈRE Original – it's quite a delicate liquid so we advise light tonic, maybe a slice of lime, maybe some drops of lavender bitters if you have them."
"The Raspberry is fantastic with ginger beer and a squeeze of lime, or with pink lemonade if you want something a bit sweeter. With the Spiced Cane, you can't go wrong with some cola. I like a slice of lemon as well. With the Smoked Agave, I tried out a couple of things. Ginger ale, cola or even if you can find it specifically I would say Fentiman's Cherry Cola."
However if you want to try out something a bit more complex, Nik has selected a couple of his favourite FLUÈRE recipes to share with us. "I thought it would be good to start the year with a bit of self-care. Well-being and self-care is implicit in feeling good in your own skin. And I think FLUÈRE is a great way to start the New Year.
Two FLUÈRE recipes to try at home
The Winter Warmer recipe uses tea to create a drink that will make you feel relaxed, whilst the Celebration is the perfect option if you are looking for something non-alcoholic to see in the New Year.
WINTER WARMER recipe
Ingredients:
90ml FLUÈRE Spiced Cane
200ml water
1 tbsp honey
3 tbsp lemon juice
1 tea bag mint tea
1 tea bag camomile tea
Preparation:
Add the water and teabags to a pan and heat until simmering. Add the Spiced Cane, honey, and lemon juice and turn the heat off. Stir until the honey dissolves. Pour carefully into a tea cup and garnish with a spring of mint.
CELEBRATION recipe
Ingredients:
40ml FLUÈRE Raspberry
5ml elderflower syrup/cordial
5ml (dash) lime juice
Kombucha of your choice
Preparation:
Add Raspberry, elderflower cordial and lime juice to a champagne flute. Top with kombucha. Stir gently.
There are more cocktail recipes, and you can buy all FLUÈRE varieties directly from their online shop – with worldwide free delivery!
---
This content is sponsored by Fluère. Find them on Twitter, Instagram and LinkedIn.