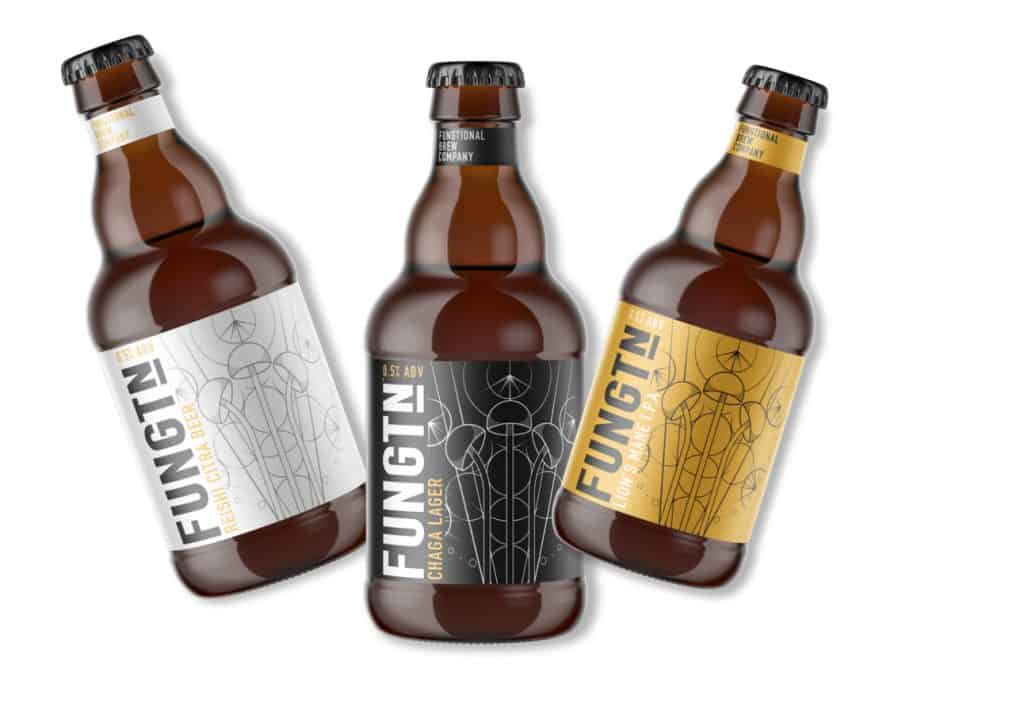 Sponsored content
Zoey Henderson, founder of Fungtn, first started using medicinal mushrooms around five years ago.
"I discovered them when I was in America, and I really got into the health benefits they were providing," she tells Club Soda ahead of the launch of her alcohol-free beer range. "Whether it was focus and energy, or clearing up my eczema and my skin."
It was around the same time when Henderson started moderating her drinking. "I was never a huge drinker anyway but I got to the point in my life where going out and getting really drunk was just not appealing to me anymore."
Discovering alcohol-free drinks
When Henderson became Head of Operations at Redemption Bar, a trio of formerly non-alcoholic bar-restaurants, she found herself perfectly placed to see what was going on in the low and no alcohol drinks market.
As the market expanded more, Henderson saw this as her opportunity to take the plunge. "I wanted to create a product that involved mushrooms to introduce medicinal mushrooms to people's diets. I wanted to find a food or drink that we consume regularly…and beer just seemed like the perfect partner."
Combining beer and mushrooms might seem like an unusual choice but Henderson found the flavour match to be more complimentary than might have been expected. "When you have [the mushrooms] dried, which is the format we use, if you were to stick your finger in the extract and taste it, you end up with a really similar profile to hops."
"I started playing around with it and I thought "Wow those earthy bitter notes in an IPA or a pilsner were really matching those flavours of mushroom." They don't taste like mushroom! So you're not going to have a beer that tastes really funky. It just pairs up well with hops."
More than just a mushroom
Whilst the mushrooms are not there to add flavour, they do add a lot more to the beer as a whole.
Firstly, Fungtn's beers are gluten-free and vegan. Henderson was initially worried that not using lactose and removing the gluten would leave the beer ending up tasting like "sparkling hop water".
"Mushrooms are 90% polysaccharide – they're starch based. When we added our mushroom extracts to the beer, we found that the yeast brought the starch out of the mushrooms. So even though they are a dry extract, our beers have got a real depth of mouthfeel and an interesting viscosity to them."
In terms of the benefits of the mushrooms, the ones Fungtn use are adaptogens. "[The phrase] was created by doctors to identify plants and herbs that help support our body, either helping them to synthesise proteins and compounds that we need, or helping to boost and support the body in its natural functioning."
"They work in line with our body's natural homeostasis and act to support them. Mushrooms are really super little foods and have some amazing benefits to them."
Functional fascination
We might be seeing a lot more drinks like Fungtn coming onto the market if Henderson's predictions are anything to go by.
"The low and no space has grown so rapidly over the last couple of years. Even though it itself is new and novel and offering customers something they haven't had before, I think we are going to see it diversify quite quickly and break up into sub-categories."
"I think functional drinks will be part of that with people saying I've removed the alcohol, that's step one, but actually I do want some other benefits. That could be a feeling, that could be a buzz, or giving you some kind of health benefit whilst you're drinking it."
Cracking a bottle of Fungtn
Fungtn are launching with three different beers: Chaga Lager, Lion's Mane IPA, and Reishi Citra Beer. The lager is closest to a traditional European unfiltered lager with malt and chocolate undertones. The IPA meanwhile has an apricot and stone-fruit taste whilst the Citra is juicy with a subtle sweetness.
"We worked to pair a few of the more well-known medicinal mushrooms that are starting to pop up in different places," Henderson explains. "We want to have a really good range of beers and keep innovating because there are about 100 different medicinal mushrooms we could use!"
For Zoey Henderson and Fungtn, this is just the start.
You can try Fungtn by ordering from their website and get an exclusive Club Soda discount. Use code FOCS20 to get 15% off your first order.
This article has been sponsored by Fungtn. Club Soda retains full control over the content.