In the US, Thanksgiving is traditionally celebrated on the fourth Thursday in November as it has done since Abraham Lincoln declared it a national holiday in 1863. But as with every celebratory occasion, Thanksgiving can prove to be challenging for those of us who are trying to change our drinking. Club Soda member, lifestyle journalist, and founder of Drink Fit Club, Melanie Warner Spencer talks us through a New Orleans Thanksgiving and what it's like to navigate one of the booziest federal holidays in the US alcohol-free in its party city.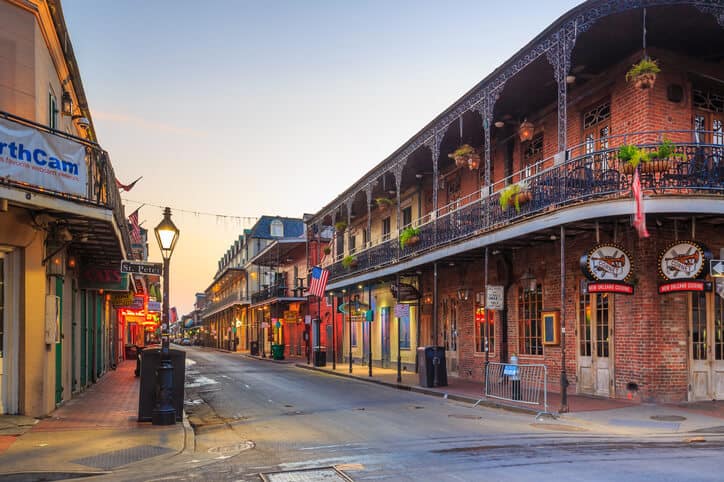 As denizens of New Orleans, booze-infused get-togethers are a given and, for two years shy of a decade, I've embraced it wholeheartedly. Our friends gather on Dranksgiving — er, Thanksgiving — for a boozy brunch potluck al fresco on a bridge over Bayou St. John. We pop bottles, sip from flasks and partake of a makeshift Bloody Mary bar and bottomless mimosas. Afterwards, most of us continue the day at the New Orleans Fair Grounds Race Course & Slots thoroughbred horseracing and — you guessed it — more booze!
Thanksgiving isn't just a drinking holiday in New Orleans, however. Thanksgiving eve, aka Drinksgiving, is often cited as the booziest day of the year in the U.S. The bars are lit and so are its patrons. This has certainly made for more than one Thanksgiving with the family in which many of us were fighting through the horrors. Pass the turkey and stuffing and pray to your deity of choice that it stays put in your belly. This year, rather than nursing an epic Drinksgiving hangover by re-drinking myself capable of tackling the Thanksgiving boozy brunch and racetrack revelry, I'll be 509 days alcohol-free, well-rested and excited about making my traditional spicy Cajun quiche at 7 a.m. (In case you are wondering, this is just like a regular quiche but with fiery andouille sausage and cayenne pepper).
Due to the pandemic, my first alcohol-free Thanksgiving was a quiet affair with two of our friends who also usually participate in the larger annual gathering. My friends whipped up a virgin Bloody Mary for me and we toasted the holiday over a petite, yet elegant brunch in their front yard then went for a long ramble in the neighborhood. This year, we are reprising the large gathering, now called Vaxxgiving, and I feel ready for it having so many alcohol free months (and firsts, such as other holidays, weddings, funerals and so forth) under my belt. My strategies are well-honed at this stage of the game and include, but are not limited to: Get a good night's rest and eat a little something before leaving the house; bring alcohol-free sparkling wine to sip with brunch and put a little Kentucky 74 non-alcoholic bourbon whiskey in my flask for a nip or two while betting the ponies; and give myself permission to leave if I feel tired or any other reason, such as when the revelers start repeating themselves a bit too much.
To date, every gathering, occasion and vacation has been more fun and better without the booze. I'm present and enjoy socializing more when sober. It's nice knowing that no matter what, this year will be a Thanksgiving to (easily) remember.
---
Melanie Warner Spencer is an award-winning journalist and photographer, pun enthusiast and founder of drinkfitclub.com. She lives in New Orleans with her husband of 23 years and their diabetic cat, Mr. Percy.