The pandemic has meant that most sober events have had to move online for the past year, including the monthly meet-ups planned by Queers Without Beers across UK. In collaboration with the fantastic teams at Binary Botanical and Wise Bartender, they decided not to let the pandemic rain on their pride parade and created a colourful, thirst-quenching box for LGBTQI+ members (and everyone else, for that matter) to enjoy during Pride 2021. Collectively, we present the Rainbow Cocktail Box!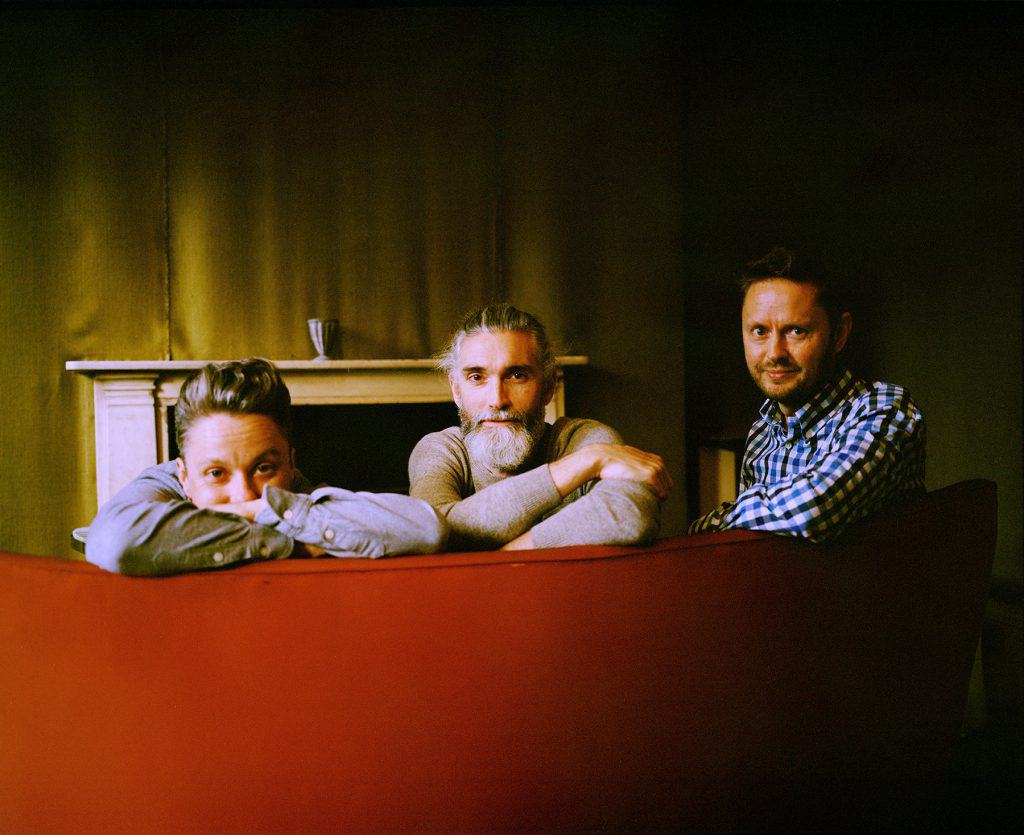 How the Rainbow Cocktail Box came about
Queers Without Beers had turned their hand from their popular face-to-face events across London, Bristol and Manchester to online events during the pandemic. They had received valuable support from some fantastic drinks brands for online events, one such brand being Binary Botanical. During a chat between the team at QWB, Danielle, the owner of Binary Botanical, and her expert mixologist, Marco, the Rainbow Cocktail box was born…just in time for Pride month!
Every June across the globe, the LGBTQI+ community and their supporters celebrate and raise awareness of their community, as well as peacefully protest to gain political awareness of issues facing that community.  Pride is a colourful celebration of diversity, and with London Pride being postponed this year, Queers Without Beers want this vibrant cocktail kit to be a carnival in a box for those still eager to celebrate in style!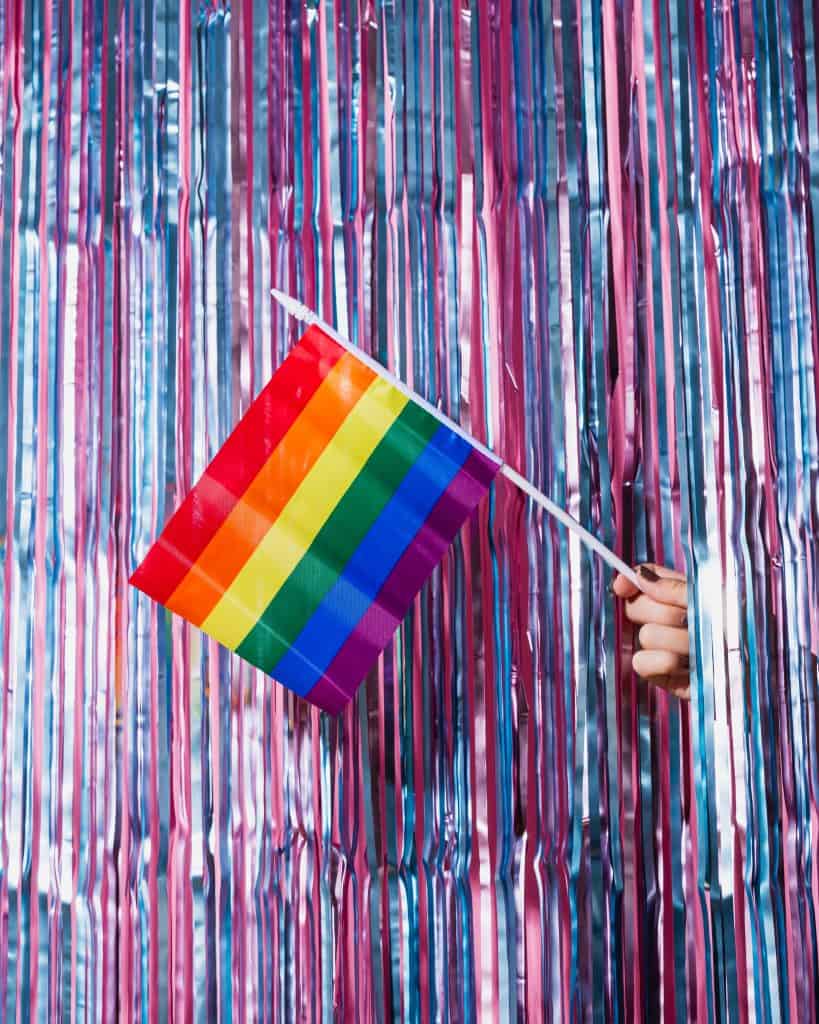 After many discussions about unique and interesting themes, it was decided to create a bespoke set of colourful cocktails to celebrate LGBTQI+ icons and legends from across the ages.  Josh from QWB had the inspiration to celebrate queer icons that people could really associate with this Pride season.
"The Rainbow Cocktail box is aimed at anyone interested in diversity", Josh says. "The mixture of modern and vintage icons chosen allows for a fun concept for everyone across all ages, and the drinks that Marco and Danielle have created are testament to how alcohol-free cocktails can be vibrant and fun for all".
While Josh from QWB went about collating his vision of presenting modern icons such as Laverne Cox, Dan Levy and Billie Porter, and not-so-modern, much-loved legends Virginia Woolf, Anne Lister and Oscar Wilde, Marco went about matching the colours of the rainbow flag with these icons, using Danielle's collection of botanical drinks at Binary, as well as other delicious and surprising additions.
"We loved the idea of creating a lighthearted, fun way of celebrating inspirational LGBTQI+ icons", says Danielle. "Pride may be cancelled in real life, but that doesn't mean we can't still have some fun!"
The shared vision is not only about Pride but about collaboration. The three organisations – Queers Without Beers, Binary, and Wise Bartender – are proud to be working together, but also enjoy sharing the joy of alcohol-free drinks with the public and their friends who otherwise wouldn't know about the plethora of alcohol-free drinks available on the market.
What's in the Rainbow Cocktail Box?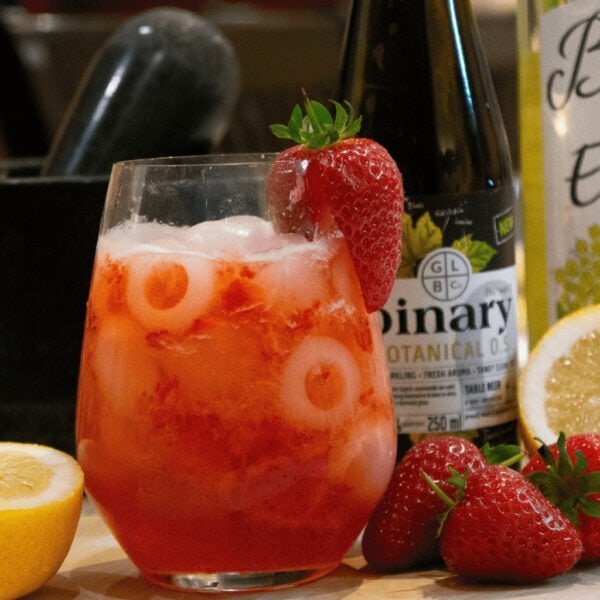 Having Binary Botanicals as a base for the Rainbow Cocktails box meant that Marco could have fun pairing this delicious standalone drink with other interesting, complex tastes – he even learned new things about this fantastic drink.
"Whilst creating the Virgin Wolf, I discovered how good mixing the tanginess of Binary with tomato sauce is – it's the ultimate indulgent drink for a Sunday morning, getting you ready to go for brunch…and as an Italian, I love a British brunch!"
The Rainbow Cocktails box has been created using maximum flavour with minimum effort for great results for busy people who want to take part in purchasing a box and creating the cocktails at home during the Queers Without Beers tasting events.
In your tailor-made box you'll find all the fantastic alcohol-free drinks provided for 8 individual cocktails, along with a bespoke recipe booklet so that you can create these totally unique Pride drinks at home yourselves. Each cocktail is named after an Icon with a description of the icon and how the drink matches the icon. Marco has also suggested the addition of some fresh ingredients, and stresses the importance of sustainability in this collaborative project.
"When I create cocktails in my restaurant, I always use fresh berries from the local grower nearby if they're called for in the recipe – the freshness is vital to the taste of your cocktail and supporting small local businesses is vital to the success of our ongoing events".
Here's a sneak peek at one of our wonderful cocktail recipes for you to try – don't forget to get your ingredients from Wise Bartender!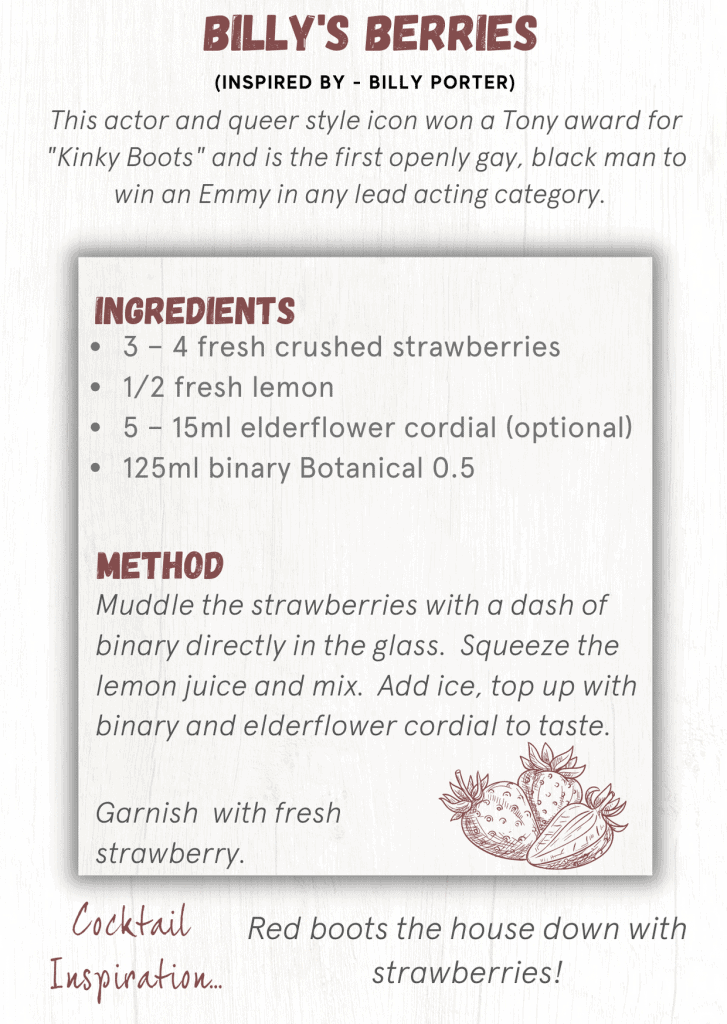 How to get your very own Rainbow Cocktail Box
Once the 8 unique cocktails were created – and Marco and Danielle had to pair down the choices for just one box! – Tom from Wise Bartender was called upon to help create the Rainbow Cocktail Box in a sustainable way.  Tom says
"I'm used to packing boxes with bottles of varying sizes as we offer a diverse range of drinks, but the team that created these fantastic drinks and I really thought about how these cocktails would fit into people's budgets. We really want to showcase the breadth of flavour available in the alcohol-free sector and help people to find great brands that are versatile".
Order your box from Wise Bartender today, and sign up for our June Pride Party where Marco will be hosting a special 'Make your Pride Cocktail' event so that you can learn how to get the best out of your Rainbow Cocktail box!
"Buy a box, invite friends round, share experiences and celebrate Pride virtually with us" says Danielle.
We'll drink to that – cheers!
---
Club Soda may earn affiliate fees from any purchases made on Wise Bartender website using links on the Club Soda website.