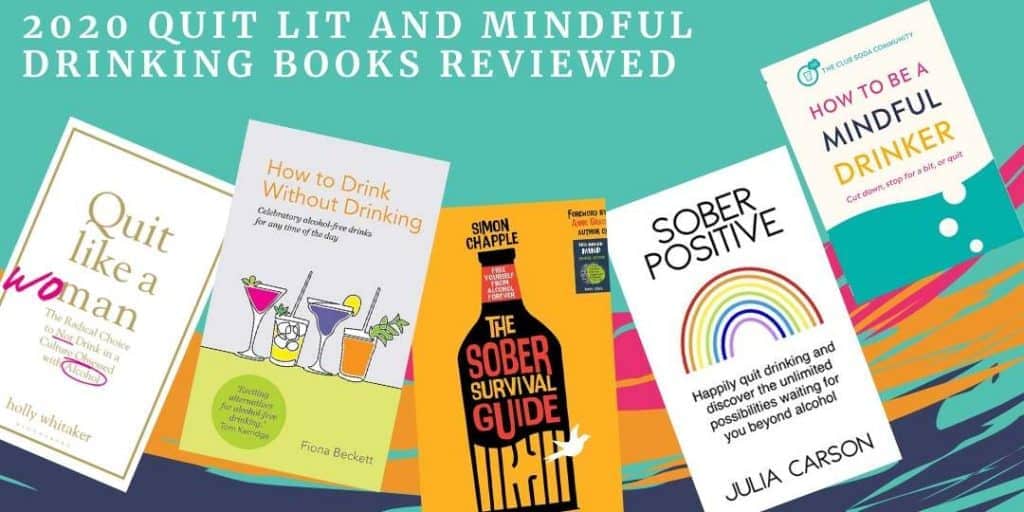 It's again time to read some of the latest books for 2020 on mindful drinking and going alcohol free. This time we have reviews of four books, and of course we have to mention our own Club Soda Community book too! If you're looking for even more reading inspiration, check out our earlier book review blogs too: read 2019 book reviews and 2018 book reviews.
Our top books for 2020
Holly Whitaker: Quit like a woman – The radical choice to not drink in a culture obsessed with alcohol
This book has already caused a fair bit of controversy. It is part personal story, part how to guide, and part polemic on different ways of quitting alcohol. Holly Whitaker weaves her own story into the book, sharing what worked, and what didn't work for her when she decided to go alcohol-free.
There are good chapters on personal development (not just around alcohol), and many ideas on things to explore as part of your journey. Although Holly talks a lot about her experiences, she's very clear that in the end we all have to find our own path – other people can only help and support you on yours. And although the book's title and emphasis is on women, it is valuable reading for anyone (this reviewer identifies as male and really enjoyed reading the book).
And what about the controversy? Holly has strong views on Alcoholics Anonymous, which she's also written about in newspaper columns. Briefly, her view is that AA was developed, and is aimed at middle class white men, and that its message of humility is not the right one for any less privileged group in society (including women, ethnic minorities, or disabled or LGBT+ people). What women need instead is an empowering approach to recovery. I can't do full justice to the arguments in this review, but I recommend the book to anyone with an interest in the topic.
Fiona Beckett: How to drink without drinking – Celebratory alcohol-free drinks for any time of the day
Fiona Beckett is a food and wine writer, and also a mindful drinker. Although this is a recipe book, not quit lit or mindful drinking lit as such, as she explains in the introduction to her latest book, Fiona avoids drinking to excess and always has two or three alcohol-free days every week.
How to drink without drinking is beautifully produced with gorgeous photos of many of the recipes which cover a wide range of drinks: from cordials, shrubs, cocktails, fermented drinks, lattes, shakes, and juices to hot drinks and many more. There are also short sections on ingredients, equipment, food pairings, and substitutes for wines.
There are also quick reviews of 50 AF drink brands available in the UK, which I was pleased to see features many Club Soda community favourites too. Some of the tips and tricks sound intriguing, for example substituting red wine with red grape juice mixed with balsamic vinegar. The recipes vary from very simple mixes to ones with more exotic ingredients and complex preparation methods. I am now seriously tempted to try making my own kvass – the Eastern European fermented rye bread drink…
We can highly recommend this as one of our top books for 2020 for anyone starting out on an exploration of the wide variety of alcohol-free drink options, and more advanced mindful drinkers will also find much to enjoy – I had never heard of Tepache, a Mexican pineapple based drink which sounds absolutely fabulous.
Simon Chapple: The sober survival guide – How to free yourself from alcohol forever
This relatively brief self-help book is made up of three parts. The first is Simon's personal story from heavy drinking to getting alcohol-free, told in a short section. The second part covers the basics of quitting drinking, from learning about alcohol and assessing your drinking and the impact it is having on your life, to changing your mindset and the beliefs you may hold about alcohol and you.
The third and longest part of the book is made up of short chapters on different topics – problems and challenges – which you can dip in and out of, according to your personal situation. Moving on from recurring "day ones" is the first chapter, with some simple tips to help you get to day two. The other chapters cover dealing with different negative feelings you are likely to experience, dealing with the people around you, and handling specific situations like parties and holidays sober.
Julia Carson: Sober Positive – Happily quit drinking and discover the unlimited possibilities beyond alcohol
This self-published book also starts with Julia's personal story. The main part is made up of her blog posts on different topics, starting with changing your mindset into a sober one, then covering several "firsts" like first weddings, holidays and parties alcohol-free. The next sections discuss a number of topics that come up for most people quitting alcohol, such as PAWS, the importance of self-care, relationships with people who drink, and the phases you may go through on your sober journey.
The last sections of this book deal with sticking to an alcohol-free life for the longer term, and larger questions about our society's relationship with drink. The appendix has lists of books and podcasts, websites, AF cocktail recipes, sober celebrities, a few restaurants and bars, and even a playlist. For someone contemplating an alcohol-free life, or at the beginning of their journey, there is lots to read (there is some repetition due to the way the book has been put together, but not excessively so!), but it's firmly on our to-read books for 2020.
Simon Eastwood: Adventures in Sober Land – And how to live in Alcohol World
It is nice to see more quit lit books for 2020 written by men, as most of them so far have been by female authors. This one is by another Simon, and is made up of short stories illustrating his sober journey so far. Sober Land is particularly relevant for Club Soda readers as Simon is a fellow member, and Club Soda community and events feature prominently in the book. The writing is engaging, the stories are funny and not-very-funny in turn. (This book just missed our original post, as it was published at the end of February; it was added it to this review later.)
The Club Soda Community: How to be a mindful drinker
We also wrote a book last year! It came out in December 2019, and is the ultimate how-to guide to changing your drinking, whether you want to cut down, quit, or stop for a bit, and is packed with stories and tips from Club Soda members. The book will guide you to start paying attention to your drinking, and discovering the life you imagine. You will explore how drinking mindfully can transform your health, emotions and relationships, with practical advice to solving common problems. A big part of the books is a comprehensive guide to alcohol-free drinks: what are they, how they are made, and how to enjoy them. How to be a mindful drinker is available on paperback, ebook, and audiobook. Read more about How to be a mindful drinker – with additional places to purchase!