One of the things we love to see in the Club Soda community is the way that everyone celebrates every milestone with each other. The community works so well because everyone is so giving of their time, whether that's encouraging someone who feels that they're stuck on day one or answering questions from sober curious newcomers. If you've been in the group even a few days you'll no doubt be familiar with Butch Cherry. He is one of our longest-standing members and a volunteer admin in our Facebook community. He has just hit an incredible milestone, four years alcohol-free. He's joined us on the podcast to share his story.  This podcast has been sponsored by the good folk at Lindeman's Wine.
How it started
It was a build up of things, mostly my health was bad, I felt horrible all the time. And I just couldn't seem to get started. I didn't have a support group the times before when I tried to quit and and I did a lot of reading online about what is necessary. That's when I found Club Soda, it made all the difference.
I live in Colorado, America. I drive a truck for a living. I'm 64 years old this year. So I did quit drinking when I hit that milestone of 60, which is a little late in life. But I'm glad that I did. Since I quit I've either learned to do things again that I used to enjoy. My wife and I go hiking sometimes, I enjoy gardening, working out in the yard and things like that. It's something I enjoy now whereas I used to spend too much time drinking and waste so much time.
The first thing that came to mind was getting a drink in. I'd have three, sometimes four days off a week and that's how I spent my free time. It was just drinking.
I hadn't gotten in trouble driving and drinking, because I didn't. My job was too important to me. I would make sure that I that I was sober and able to drive. When I was off is when I was having the trouble. I would be off work and immediately the first thing that came to mind was getting a drink in. I'd have three, sometimes four days off a week and that's how I spent my free time. It was just drinking.
Noticing the problem and choosing to change
It was this is vicious circle. I'd drink, I'd go to bed, I'd get up, and I'd drink. It was such a hard merry go round to get off, it was horrible. I'd wake up I feeling terrible, I wouldn't feel rested, because alcohol fuelled sleep is no good. I tried many, many, many times, and I would always fail it. I didn't have the tools that I needed. And that's one thing the Club Soda has supplied. Planning tools, support, and alternative drink ideas and things like that.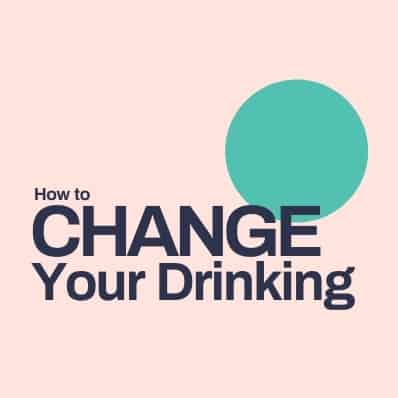 If you are looking for some guidance with changing your drinking, why not check out our courses? You can start with a free course, or check out our longer courses. Club Soda has loads of resources to help you on your journey, whether you want to stop, take a break, or cut down.
Instead of going to my regular restaurant that served beer, I went to one that didn't. That was the first steps. Little changes like that made it possible for me to quit. Now I'm at this four year milestone.
My first week was hard. I had to leave in the truck. I was on the road and when I was done for the night I'd usually go get dinner and one or two beers, not too much. Then I'd spend the night in a hotel. But I remember I posted in the Club Soda Facebook group. I was getting ready to go get dinner and somebody in Club Soda said 'wel, what's your plan?'. I had to stop and think about it, because I didn't have one. And instead of going to my regular restaurant that served beer, I went to one that didn't. That was that was the first step. Little changes like that made it possible for me to quit. Now I'm at this four year milestone. That's what it takes is little steps. It's just the little things that you do today to change your mindset and to change your habit.
What did you notice when you stopped?
I'd never have the headaches some people get, but my stomach was always horrible. I didn't have energy, my joints ached. Now I feel much better. I had knee replacement surgery lately and that's still a little sore. I said to my wife 'I can't imagine doing this when I drank'. My doctor says when you're drinking you're not going to heal as well. I just feel so much better now. It's amazing to notice the difference in your outlook just because you feel better. My work ethic is much, much better than it was. People that I've worked for have noticed it and have mentioned it. They gave me a raise.
when I made the commitment to quit, I wasn't just socially drinking, I was making a lot of my own drinks at home by myself. It's a horrible thing to do. A lot of the people that I used to hang out with were my drinking buddies. Some of them weren't true friends, they were just people I drank with and we would joke and tell the same old stories. It seemed hilarious at the time. I look back on it now and I just don't understand what my thinking was. I see a couple of them occasionally but they know that I've quit. I have no desire to see a lot of those guy for the most part just because they weren't true friends, they wouldn't celebrate this milestone with me.
With my job, a lot of the time you're alone. I don't have a lot of time to interact with other people. I've gotten a lot closer with a few people I work with. One of the guys that I work with is in AA and he just hit 10 years. I talked to him quite a bit when we have an event at work. He will hang out with me because if beer is served he doesn't want to be around and he knows that I don't drink. My last supervisor didn't drink either, we had that in common. I've got a little closer to them than I normally would. But as far as going out and making new friends goes, I haven't really done a lot of that.
My relationship with my wife is much better than it was, so we spend more time together. Something that we've been able to do is to make more trips. We travelled to England and Italy a couple of years ago because of the money that I saved by not drinking. We've made some short trips and we've grown closer because of that. Looking back over the years I think 'what was I doing?'. You just don't realise, you get stuck in the same old routine. And you don't know anything better, you don't know anything different, so you just continue it.
Advice for people who was to reach their own milestone
There are a lot of new members in the Club Soda community, especially this time of year. I think a lot of people need help with taking that first step. I've talked to a couple members and they mentioned the same thing, how do I get started? I think the main thing is just make the commitment. If you want to change, how important is that to you? What are you willing to do to make that happen? In my opinion, you have to do whatever is necessary. A few people have told me that their friends don't support them, and have asked me how to deal with that. I think you have to prioritise yourself when you're trying to quit. Sobriety has to be the number one priority and then the rest can fall in place.
It's never too late to change. It's never too late and it's never too early. I've noticed that a lot more people are coming to Club Soda with the same thinking that I had but at a much younger age. If you decide to quit drinking, do it and see what happens. If you decide that you still want to drink and you want to moderate, good for you. I personally can't moderate, I find alcohol a horrible companion, it doesn't give it just takes. I remember one time I was trying to moderate. Where I live in Colorado, they have 3.2% beer. I was having a hard time of it and hung over a lot. So I made the commitment to only drink 3.2% beer. That lasted for about a day and a half. It just doesn't work for me. There's something I learned Club Soda is if you quit for a month, it gives your body a chance to reset. Give it that much time and then see how you feel. A lot of people find they feel good and they want to continue on because it's only going to get better. But I know there are a lot of people who can moderate. Alcohol always be there. If you ever want to go back to it you can. But if you're not sure about it, just start by seeing what it's like to not let that be such a big part of your life.
When I first quite I did have a feeling of missing out. Something that helps is alcohol-free beer. With the lockdown, my wife and I haven't been out with people for a while. The last time we were out they were sharing a bottle of wine. I had my alcohol free beer and I didn't feel like I was missing out. I don't want to drink Coke or Pepsi or whatever, I want something that's a non-alcoholic adult drink that helps you feel like you're joining in. Most people that I associate with now, they don't care if you're not drinking, they don't make it an issue.
The first thing I would say is to keep a positive attitude. If you go in thinking 'this is going to be impossible', that's not going to help. You need to think 'I can do this, of course I can change'. Do your planning, use WOOP, a four step planning tool. It's not complicated to do, and only takes a few minutes. WOOP really works. Whatever alcohol free drinks are to you whether it be soda, alcohol free beer, a mocktail, have that because then you don't feel like you're missing out. Remember why you want to do this. What are the important reasons? Why did you decide to change your drinking? Keep that in the forefront of your mind. That's what's important. The people that are that are not supporting you don't matter. But the people that do matter are the ones that you care about, who care about you, and who you want to see you reach milestone after milestone.
Two weeks or three weeks down you might find been successful, and you seem to forget some of you reasons for quitting, or you forget how it was when you were drinking heavily. That doesn't help. You need to be resolute about what you're going to do. That keeps you focused, keep your eye on the goal.
What motivates you toward each milestone?
My relationship with my wife, and my health. I'm healthier now than I was five or six years ago. I feel much better and I want to continue to do the things that I do now that I didn't have time for when I was drinking. I want to go hiking, there are so many places I want to see. We want to come to England again and meet the Club Soda team again. Money is another thing that motivates me. We work so hard for our money, why waste it on something that's gonna take your motivation or your drive away? Now we put that toward things that we want to do and that's a big motivator to me.
I don't have much of an urge to drink at all anymore. Occasionally, I'll get a slight twinge. I actually wonder sometimes what it would be like to have a drink. I think I'd probably get sick to my stomach because I reprogrammed my mind, I think of it as poison these days. I just don't want to drink it. Each milestone is a reminder of that.