Laura and Dru present Christmas tips from a cast of diverse voices from the mindful drinking and sober world to support you this holiday season. Covid has made an already challenging time of the year a little bit more complex practically, emotionally, and socially. So how do you keep off the sauce during the holidays?
Christmas tips
Beth Kempton is author of Calm Christmas and a Happy New Year. Given everything that has happened, instead of overspending, over-preparing and overdoing just about everything in an attempt to create the 'perfect Christmas' this year, what if we just relaxed, and focused on what really matters? Buy Beth's book from Amazon UK // Amazon US //Amazon AUS.
Simon Chapple. How to Quit Alcohol in 50 Days is Simon Chapple's second book. Buy it from Amazon UK // Amazon US // Amazon AUS.
Ben Keene (aka @tribebuilder) from Rebel Book Club. We love their style. Never Stop Learning. Monthly: non-fiction books, meets & community. Accelerate your reading habits & connect with like-minded thinkers & doers. Ben's book recommendations for us are: An Astronaut's Guide to Life on Earth, Tough Women Adventure Stories, Atomic Habits, The 100-Year Life, and Tools of Titans.
Janey Lee Grace is not only a pop star and TV and radio personality, but also the author of several books on healthier living. Her latest book is coming out in February, but you can already order it from Amazon UK.
Maz Compton is the author of the Sober Rebellion and all round superstar from Australia. Buy her book from Amazon UK // Amazon US // Amazon AUS.
Marcus Barnes is a writer, DJ and artist who has written for Club Soda as well as The Guardian. Do check out some of his inspiring articles for us, like this one on being sober in Ibiza with his drinking buddies.
Hilary Sheinbaum is the author of Dry Challenge: How To Lose The Booze For Dry January, Sober October, And Any Other Alcohol-free Month. Buy the book from Amazon UK // Amazon US.
Jessy Parker-Humphreys managed the Club Soda Guide (the best place to find low and no alcohol drinks and where to find them), pub expert and beer buff!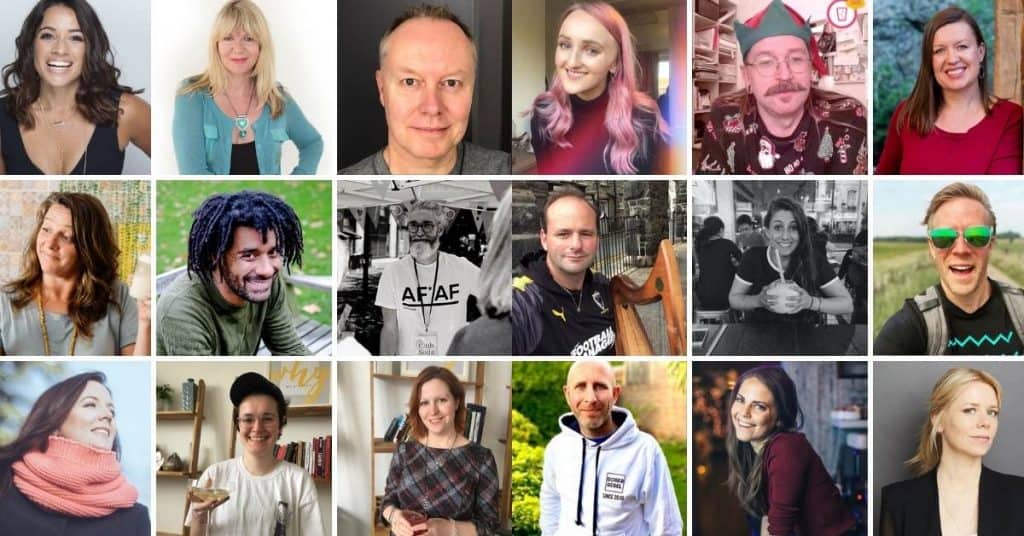 Anja Madhvani is the Club Soda magazine editor, drinks expert and woman of many talents!
Carwyn Tywyn is a Club Soda community admin, a proud Welshman, and harp player.
Jussi Tolvi is Club Soda's resident behaviour change expert and Christmas sceptic (to balance things!).
Annie Grace is known for her This Naked Mind books and programmes. Annie also features in our 2021 book review and you can buy her new book from Amazon UK // Amazon US // Amazon AUS.
The amazing Camille Vidal from La Maison Wellness is always our first stop for cocktails and the star of TV's Sunday Brunch. Do check out her amazing YouTube channel for drink ideas this Christmas.
@drunkmummysobermummy Victoria Vanstone has some great Christmas advice on her blog. Originally from Brighton, she was a self-confessed 'party animal', who hadn't been sober in 20 years until she fell pregnant at 35.
Simon Eastwood is one of the Club Soda community admins – helping keep our space safe and kind. He has a book out called Adventures in Soberland which you can buy from Amazon UK // Amazon US // Amazon AUS.
Claire Williams is a Club Soda community admin and someone who has worked hard to change her drinking. We continue to be in awe of her progress and her willingness to help others.
Josh Kelly is Club Soda's events organiser and Queers Without Beerscoordinator. A well as a dancer, model and gardener.
Joao Brites is from AB InBev's Global #smartdrinking team.
Roxy is from our favourite sober ravers Morning Gloryville.
Lauren Burniston from We Love Lucid, the sober holidaying company, offers her top tips – well she is an expert at holidays!
Ruby Warrington, sober curious warrior and author of the new Sober Curious, Change the Way You Drink in 100 Days or Less. Buy the book from Amazon UK // Amazon US // Amazon AUS and read more in our 2021 book review.
Millie Gooch is the founder of Sober Girl Society and author of the new Sober Girl Society Handbook – you can read more about that in our 2021 book review. Buy the book from Amazon UK // Amazon US // Amazon AUS.